Tata Power and Apollo Tyres Joins Hands to Open 150 EV Charging Stations
Posted by Sparsh Dayal On 04-Feb-2022 11:34 AM

1739 Views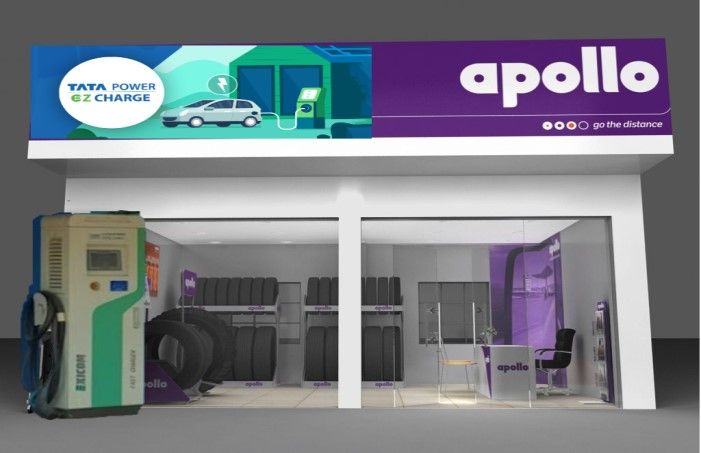 The EV industry has attracted everyone's attention and the manufacturers are leaning towards the production of more ev as the demand for the same picks up pace. People and organizations are coming together to grow and benefit from the rising EV industry. As such collaboration can be again seen in the latest trends like the tie up between Tata power and Apollo Tyre.
It is noticed that the two renounced, Tata Power and Apollo Tyres, have tied up together to establish new electrical charging stations across India. Tata power already has set up a wide charging infrastructure with more than 1000 charging stations across 200 cities in its EZ charge band. The stations have DC001, AC, Type2, and fast DC chargers up to 50 kWh. The arrangement of the charger will power up both two-wheelers and four-wheelers depending on the vehicle owner.
As a part of the terms agreed, Tata power will set up charging stations at 150 retail outlets situated at Apollo Tyres business and passenger zones. These charging stations will be open not exclusively to customers but also to the overall public consistently. This act will help accelerate the transition to electric vehicles for the general public.
This network of public EV charging stations positively provides an innovative and seamless EV charging experience for clients across Offices, Malls, Hotels, Retail Outlets, and spots of communities, empowering clean portability and independence from range anxiety. Tata Power EZ chargers ecosystem covers the whole value chain of Public chargers, Captive chargers, Bus/Fleet chargers, and Home chargers. Tata Power has likewise fostered a strong programming stage for its EV charging clientele and has delivered a mobile-based application called Tata Power EZ charger, to give its customers a straightforward and simple charging experience. The application helps in finding EV charging stations, charging EVs, and making bill payments online, making it one of a kind.
This ultimate move by both the leaders of their industry is a reflection of their commitment to developing and expanding the electric ecosystem in the county. with the motive of green mobility and to #do green there will be the availability of uninterrupted charging infrastructure across locations.
Tata Motors, the subsidiary of the Tata Group conglomerate is benefitting from the presence of its sister company Tata Power as the auto manufacturing giant has easy access to EV charging infrastructure which is being developed independently by Tata Power at its own costs.
This is benefitting Tata Motors which is the largest selling electric car brand in India currently and has the highest selling electric car in India, the Tata Nexon EV starting price Rs 14.29 lakhs. The Indian company also has the Tata Tigor EV in its electric car line-up and is looking to add a few more names to this list.
Upcoming Tata Motors Electric Cars in 2022:
Upcoming Tata Motors EVs in 2022 include the long-range Tata Nexon EV, which will get a larger battery pack as well as a driving range of more than 400 kms. This will help the Nexon EV consolidate its position as the best-selling electric car in India.
The company will also launch the Tata Altroz EV this year, which will be its entry into the electric hatchback segment. Tata Motors also has plans to launch the Tata Tiago EV and has already announced that it is developing an EV platform which will only be used to build electric vehicles. First of those, purpose-built, electric car may be the Tata Sierra EV, which was showed as a concept at the Auto Expo.