Thar crossing river without a snorkel, Anand Mahindra Shares The Video
Posted by Rakhi Jha On 17-Sep-2021 08:39 AM

87908 Views
Thar crossing river without a snorkel, Anand Mahindra Shares The Video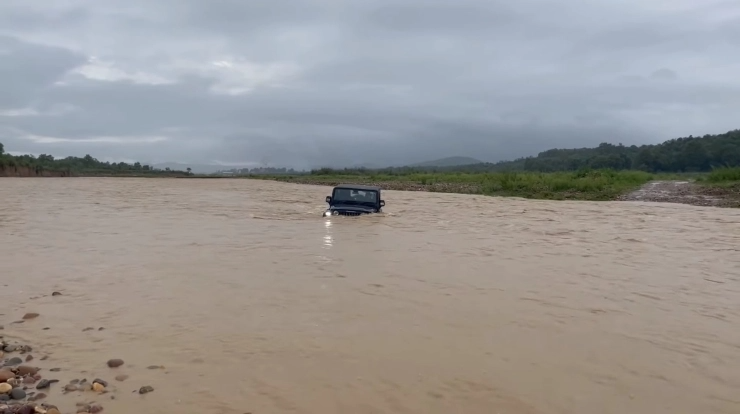 Before you get into this news, you should be aware of this important piece of advice, So you would not think to attempt this step. The Thar has no modifications to it to make it more off-road capable. It is running on stock tyres, has no lift kit and does not even have a snorkel but still, the driver is able to cross the river. The driver enters the river at carrying decent speed. When he had crossed half of the river, the current of the river drags the SUV with it but the driver somehow manages to escape it. We can see Thar struggling for a bit. Almost half the SUV was under the water, the river must have had rocks at the bottom because if it would have been sand the tyres would have lost traction and get stuck. It is quite commendable of the Thar to be able to cross a fast-flowing river that too in a stock form.
Having said that, you should never attempt such things. There are a lot of things that could have gone wrong. The current could have carried the SUV with it, the tyres could have lost traction and the Thar could get stuck and the engine could have got hydro locked because there was no snorkel installed.
As we all know Anand Mahindra always shares some of the interesting and trendy news on his Twitter account. This time he also does the same, he shares a video of Mahindra Thar crossing the high flowing river.
Share this video, Anand Mahindra wrote on Twitter "After I RT'd the tweet about a Bolero in Gujarat wading through floodwaters, several of you shared this video that's circulating on @YouTube I think we may well have to create a new vertical called 'MahindraAmphibious Vehicles' (MAV's!)"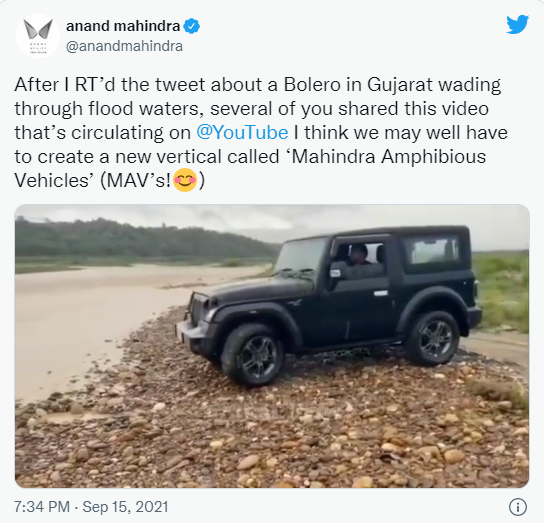 Nowadays, vehicles have a lot of electronics built into them. There are special sensors placed that can detect water and shut down the engine to prevent damage. This is called hydro locking. You would have to rebuild your engine to make sure that there is no water inside the engine compartment. Rebuilding an engine costs a lot because the whole engine needs to come out of the vehicle and then it is disassembled, cleaned and then reassembled. The Thar that we see in the video is equipped with a petrol engine mated to an automatic transmission. Mahindra is also offering a diesel engine mated to the same automatic transmission. Both the engines are also offered with a manual gearbox. Mahindra offers a 4×4 system with a low range gearbox as standard with the Thar. Always Keep in mind the technical info of the car which you have been using and going to use to perform such deadly stunt, we do not support any kind of such steps.