2022 Harley Davidson Nightster Review
Posted by Sachit Bhat on 08-Aug-2022 07:25 AM
Harley Davidson has plans to launch the Nightster in India this month. We are here with a short Review of the 2022 Harley Davidson Nightster.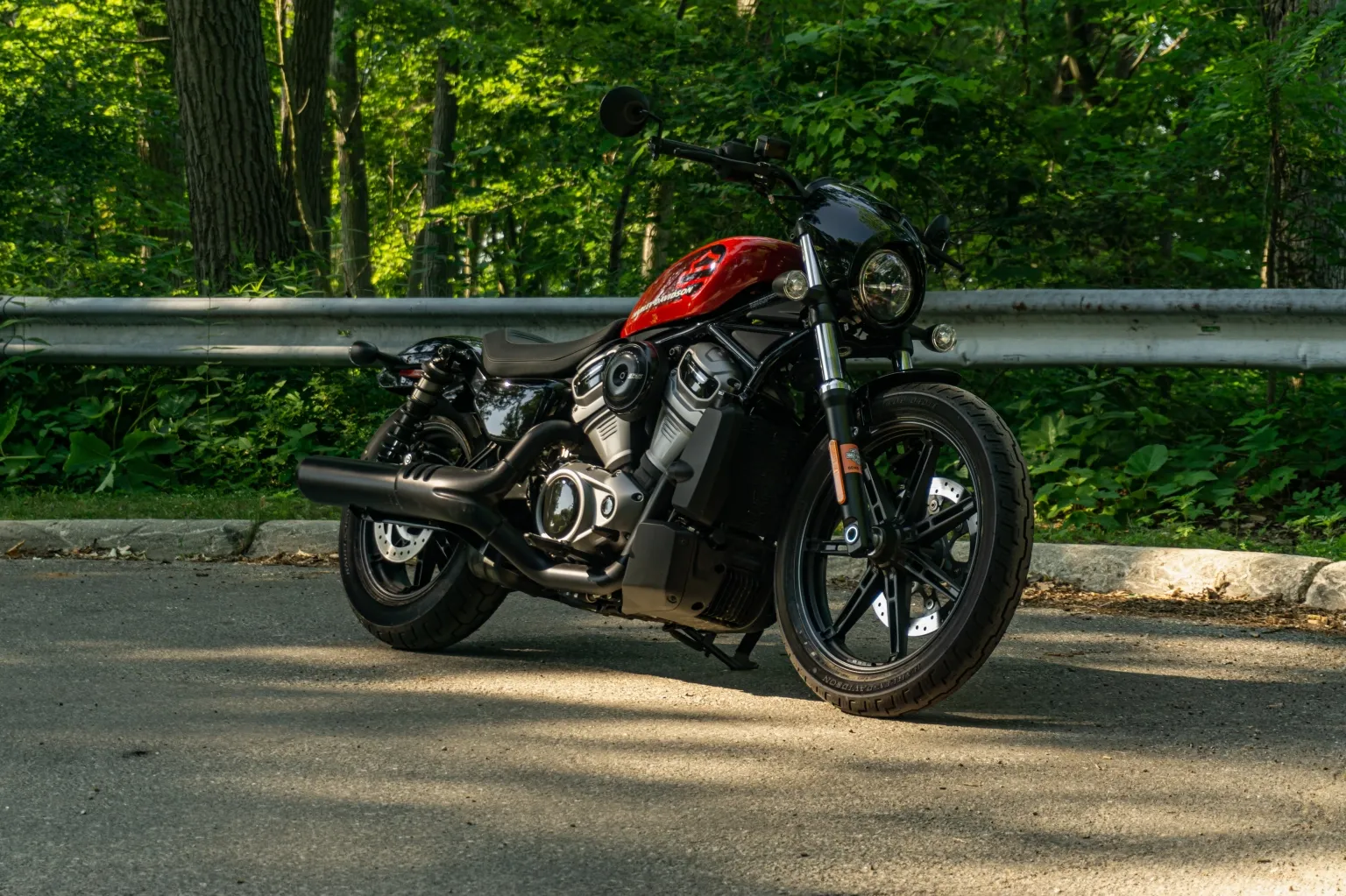 What is a Sportster Harley-Davidson? It is considered by many to be the archetype of an American cruiser motorbike. But in a world that is always evolving, this bike also can't rely on its legacy to thrive. At least not without drastically altering itself, which many traditionalists find repugnant.
However, despite how distinct the 2022 Harley-Davidson Nightster is from earlier Sportsters, it upholds its objective. And after analyzing and studying various reports from the international media, I believe it might inspire other riders and traditionalists to reconsider what a Harley and an American cruiser are capable of.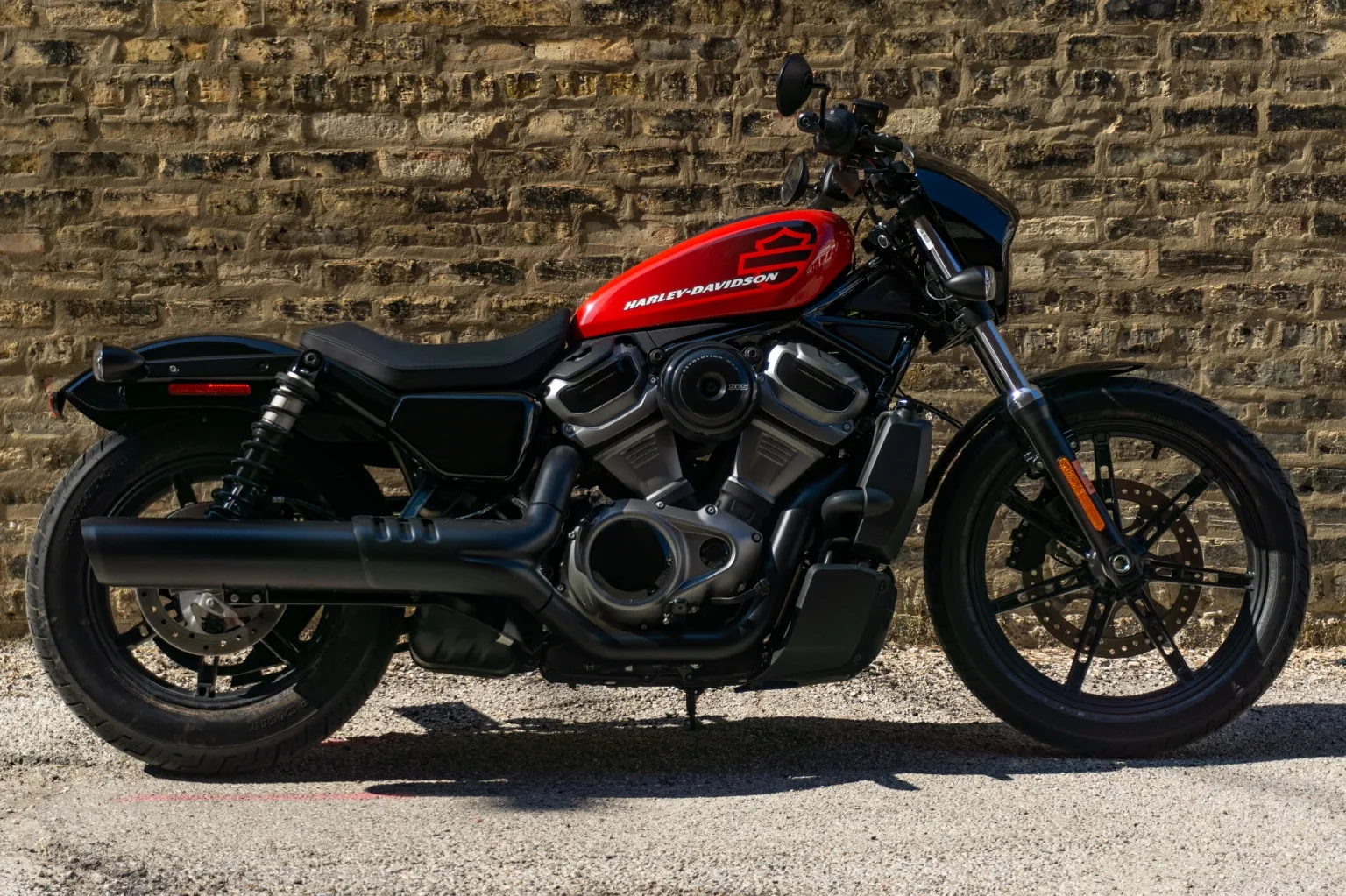 The 2022 Harley-Davidson Nightster: Not a Common Sportster
| Engine | 975cc 'Revolution Max 975T' liquid-cooled V-twin |
| --- | --- |
| Horsepower | 90 hp |
| Torque | 70 lb-ft |
| Transmission | Six-speed manual with slipper-assist clutch |
| Front suspension and travel | 41mm Showa Dual Bending Valve fork; 4.5" |
| Rear suspension and travel | Twin preload-adjustable shocks; 3.0" |
| Seat height | 27.8" |
| Curb weight | 481 lbs |
Technically speaking, Harley-"Nightster" Davidson's model is not a new moniker. It initially appeared on a 2007 Sportster 1200 that had been blackened out and simplified. The 2022 Nightster, on the other hand, has nothing in common with that bike other than the name, appearance, and riding position in general. It also has nothing in common with the Iron 883 and Iron 1200. It does, however, have many similarities to some of Harley's newest models, like the Sportster S and Pan America.
First of all, those two motorcycles' central frames are shared by the 2022 Harley-Davidson Nightster. And I mean it figuratively. The same steel trellis structure is used, but the stressed member is a liquid-cooled V-twin. The Nightster, with its lighter engine, weighs 83 pounds less than the Iron 883. The V-twin on the Nightster shares the same exterior dimensions as the V-twins on the Sportster S and Pan America. Instead, it has a shorter stroke, which, as I'll explain in a moment, has additional consequences on the riding experience.
The 2022 Nightster, being an entry-level motorcycle, lacks several of the features found on the Pan America and Sportster S. It has more than just the air-cooled Sportsters, though, which are required to meet Euro5 standards. The Nightster boasts traction control, rear-wheel slide control, all-LED lighting, tire-pressure monitoring, and three riding modes in addition to standard Brembo brakes with ABS (Rain, Road, Sport). Additionally, it incorporates a multi-function LCD in its single gauge. Additionally, you may start it without twisting a key or pulling the clutch thanks to its standard proximity security.
The 2022 Harley-Davidson Nightster: Price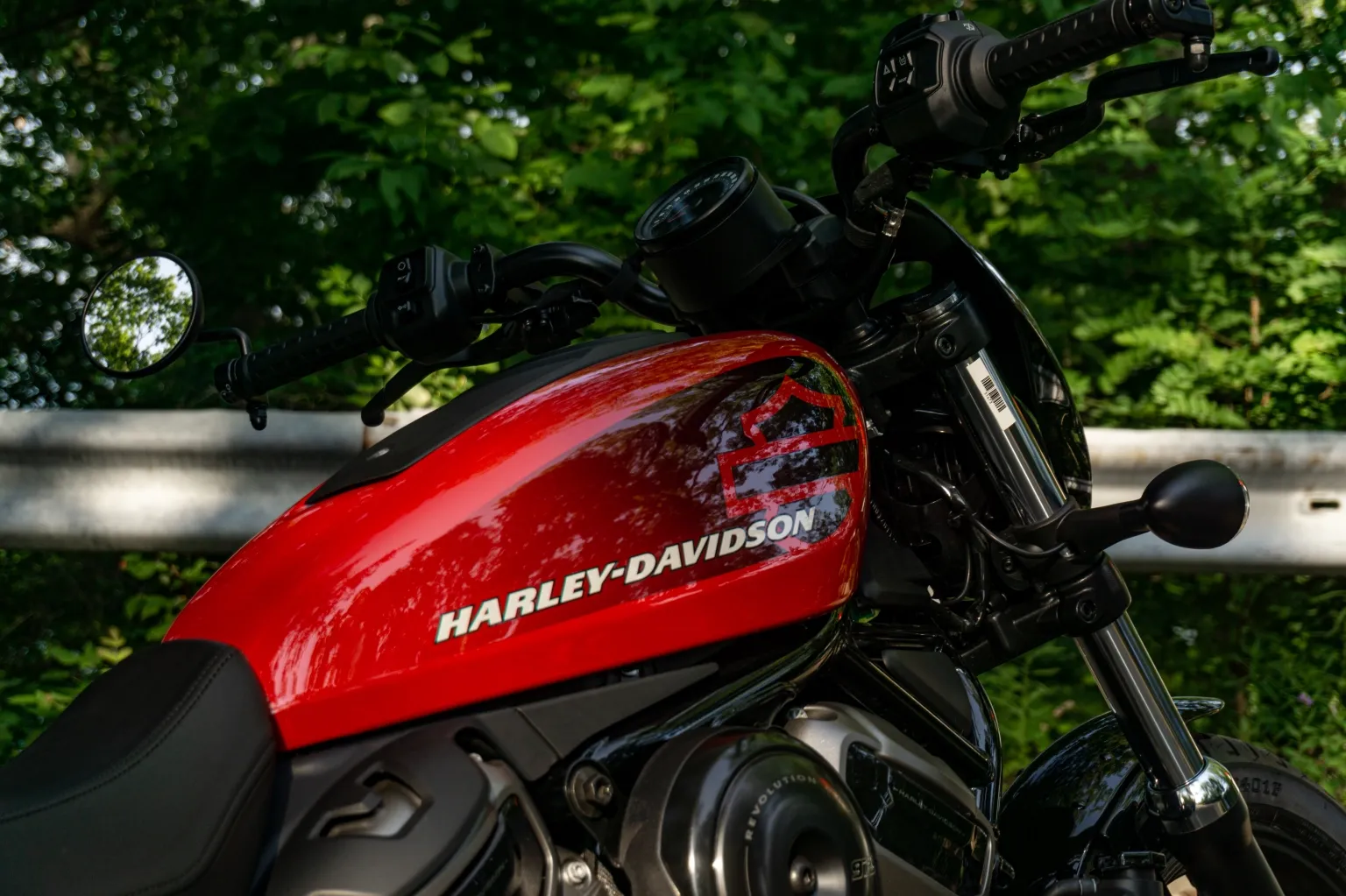 The price difference between the 2022 Harley-Davidson Nightster and the other air-cooled Sportsters is understandable given that it has more standard amenities. It is less expensive than the Sportster S, though.
The 2022 Nightster starts at $13,499 ( INR 10.74 Lakh in India, although the estimated cost in India is around INR 14.00 Lakh) in black. The steel tank, which isn't a petrol tank, costs an additional $400 in red or grey. Additionally, the Nightster's fenders and small fairing remain black regardless of the colour of your tank.
It might seem expensive for a base-model Harley-Davidson to cost $13.5K. Remember that, the starting price for a black Iron 883 with ABS and proximity security is slightly around $12,500. As was already said, it has many safety features and is down a gear. Additionally, a Softail Standard with ABS starts at about $14.8K and has higher torque, but it weighs more than 170 pounds more.
Additionally, the Softail won't handle or rev like the Nightster, just like the air-cooled Sportsters.
The 2022 Harley-Davidson Nightster: A new Sportier Tradition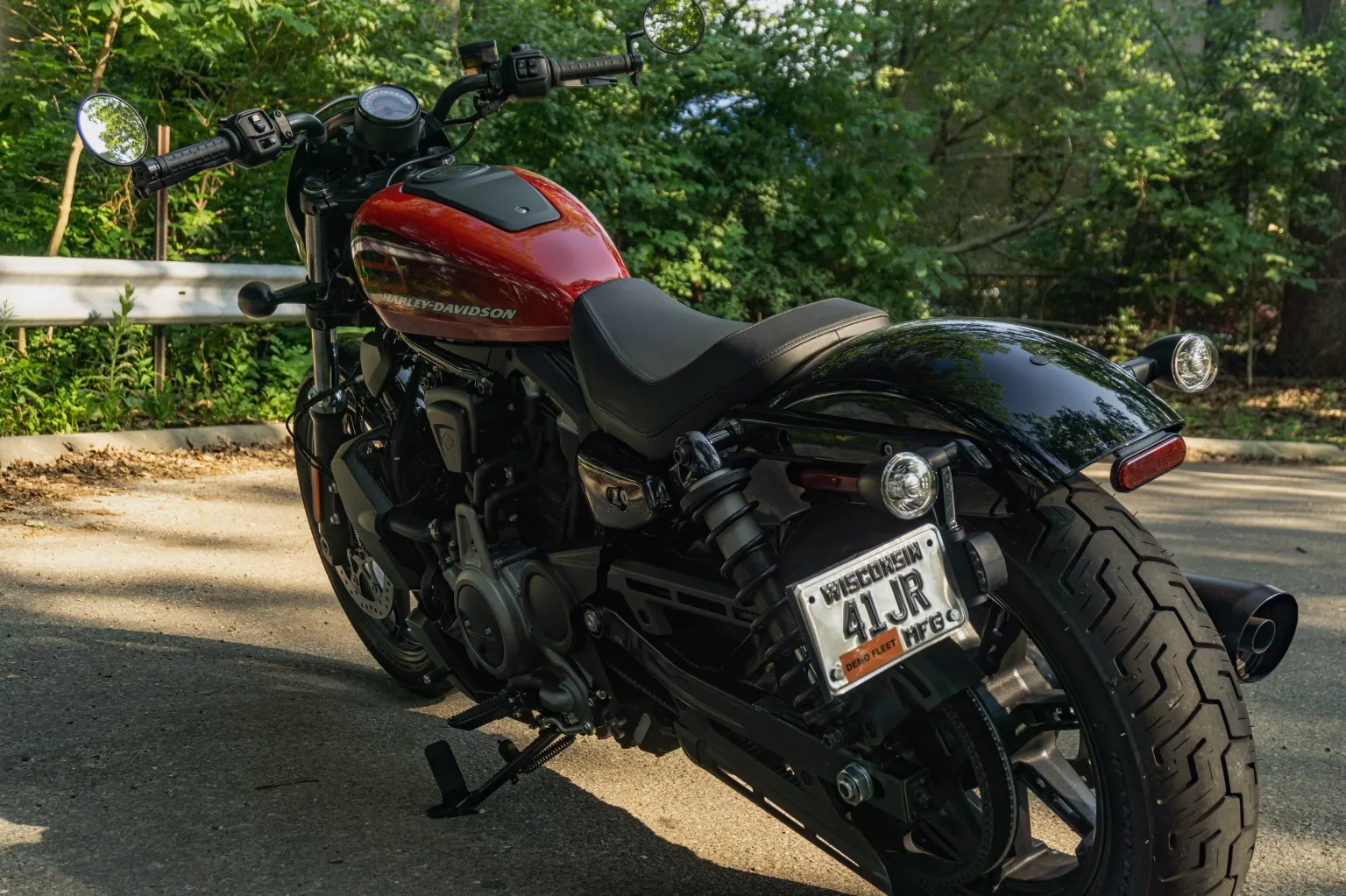 You haven't been paying attention if you believe that "Harley-Davidson" and "handling" don't go together. With how at home it seemed on those winding roads, the Sportster S I rode in the California canyons last year just blew me away. I absolutely feel that this lighter, revvier cruiser would be considerably more enjoyable there, even though I couldn't ride the 2022 Nightster there.
Recall how I stated the Sportster S and Nightster have the same central frame. It differs in two important ways, though. One difference is that it now has twin shocks instead of a single monoshock in the rear. In order to fit a smaller, taller front wheel and tyre on the 2022 Nightster, Harley-Davidson modified the front-end geometry. The pegs and pedals on the Nightster are further back than those on the Sportster S's normal forward controls.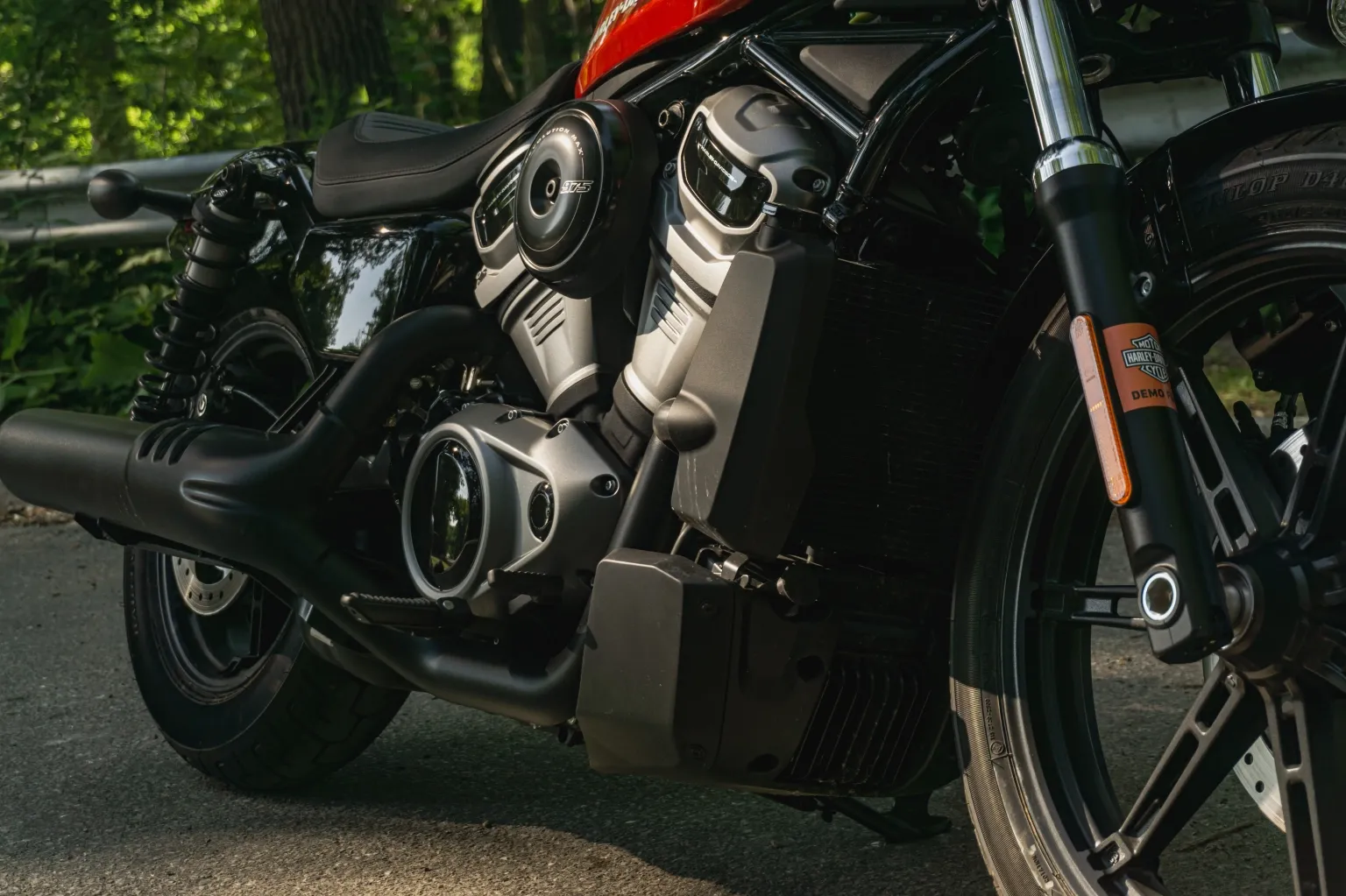 These modifications lead to a Sportster that feels much more truly sporty than the Sportster S. The 2022 Harley-Davidson Nightster is incredibly simple to steer and lean into sweeping bends. And because of the low centre of gravity and sturdy, responsive chassis, it never feels heavy.
Even though the 2022 Nightster's suspension can't be adjusted as much as the Sportster S's shocks can, it still manages to balance comfort and handling well. The rear shocks could need more travel and the ride is on the hard side, but the shocks themselves are well-damped. In other words, the bike conveys a lot of road feedback without feeling harsh or rigid. Simply avoid sharp turns and potholes.
Additionally, this is the first cruiser I've ridden on—aside from the mid-control Sportster S and Bonneville Bobber—where I wouldn't want to modify the foot controls. For my 5'8" frame and its 32" inseam, their placement and the brake pedal's firmer feel were ideal. Additionally, they make steering and leaning the bike considerably simpler.