Best Ladies Bicycle in India under 10,000
Posted by Utkarsh Gusain On 02-Mar-2022 01:12 PM

3224 Views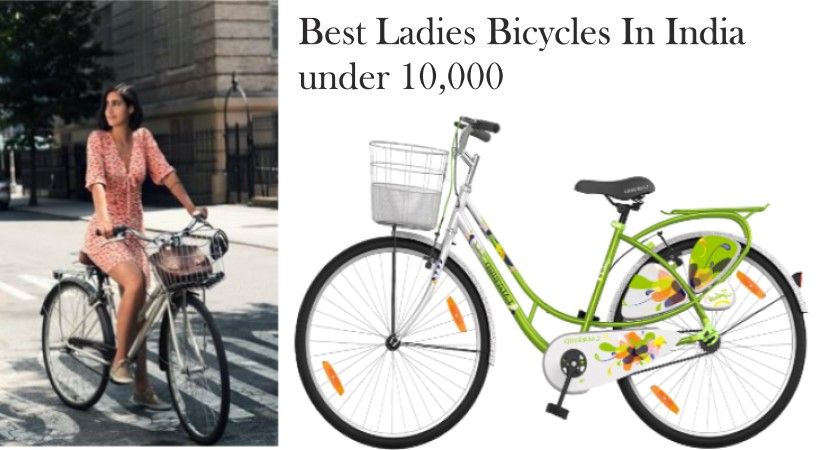 Cycling has gained a huge popularity in India since last couple of years. As the number of cyclists are growing day by day the sales are also increasing. A huge part of the cycling world are women cyclists, which too are growing in numbers. Ladies in India are becoming more conscious of their health and fitness.
When a women crosses a certain age or just after birth, it gets harder for them to lose weight. Hence this can be the main reason they are choosing to cycle daily and lead a healthy lifestyle. For girls in early ages, cycling is a fun outdoor activity they can enjoy with friends. Cycling is also proven to help increase height in kids which is a good enough reason to buy your kids a cycle.
Cycle brands like Avon, BSA, Hero, Btwin etc. have an interesting line up of ladies bicycle. They come in designs which are aesthetically pleasing to girls/women and low frame geometry.
Here we will be listing best women's bicycle in India under 10,000:
1) BSA Ladybird Splash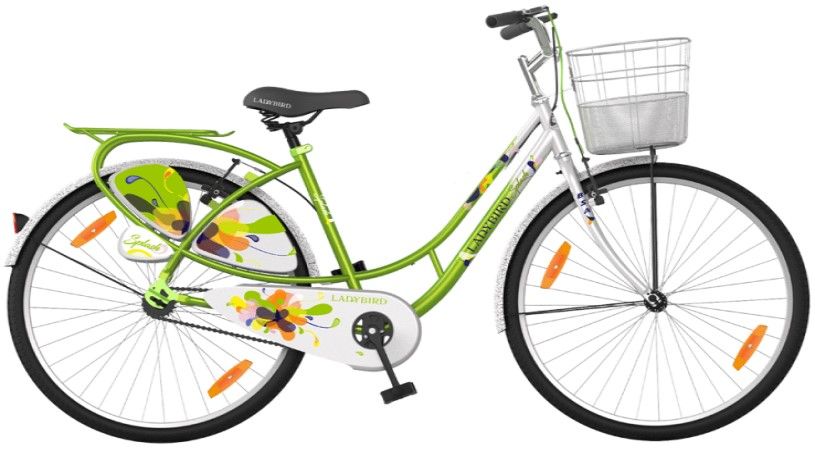 BSA is well known cycle brand in India which was formed via the collaboration of Murugappa group (India) and Tube Investments (UK). This collaboration has given birth to several other popular cycle brands like Hercules, Montra and TI cycles. BSA has a separate line up of ladies cycles called BSA Ladybird. All bicycles in the ladybird series have very cheerful designs which are appealing to ladies. This Lady Bird cycle is named BSA Ladybird Splash.
Features:
BSA has offered ladybird Splash with a vibrant colour theme. The graphics on the cycle radiate a spring season vibe. The cycle has a rear carrier integrated with the frame, rigid front fork and a wire mesh front basket. Ladybird Splash is provided with a cushioned seat and V-brakes for reliable braking.
BSA Ladybird Splash price is Rs.8,050.
2) Btwin Rockrider ST20 LF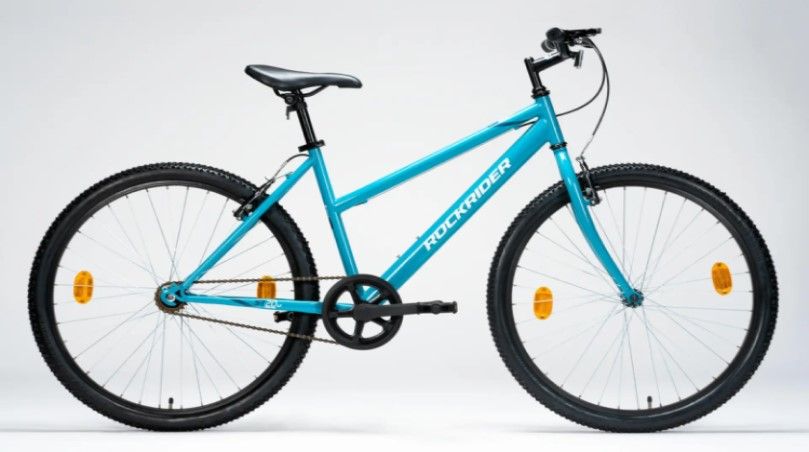 Btwin is a fast growing cycle brand which comes under the sports giant Decathlon. Btwin produces quality cycles under affordable prices. Btwin Rockrider is a line-up of Mountain Bikes (MTBs). The Btwin Rockrider ST20 LF is an MTB for ladies with a simple and classy outlook. Rockrider ST20 LF is a cycle for girls who want a sleek design and not something flashy at the same time. This bicycle is a perfect option for a beginner cyclist and can easily learn using this.
Features:
Btwin Rockrider ST20 LF comes with a tough steel frame, rigid fork on the front, single chain ring and V-brakes for stopping. The bicycle is single speed and is provided with quick release on the front wheel. The frame geometry of the bike is unisex which allows any rider to ride it. Btwin offers lifetime warranty on the frame and 5 premium services in the first 6 months.
Btwin Rockrider ST20 LF price is Rs.8,999.
Also Read:Best Kids Bicycles under 10,000
3) Hero Miss India Gold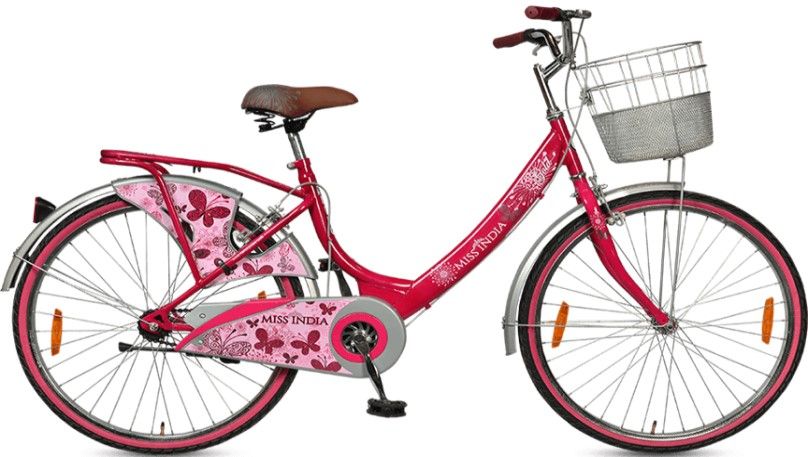 Hero cycles is the biggest cycle brand in India. Hero manufactures good quality cycles at a very cheap price when compared to other companies and this is the major reason for its success. The home grown company has doubled their sales in recent times and is putting up with the increase in demands in the Indian market. Hero Miss India Gold is a cycle for someone who's a diva. Despite all the features and aesthetic design it is provided with, the bicycle is very affordable and worth its cost.
Features:
Hero Miss India Gold comes with a low frame geometry made out of steel which makes it durable. Rigid steel fork holds the front wheel. The bicycle is single speed and good option for beginners. Miss India branding on the frame adds a shiny element to the bicycle.
Hero Miss India Gold price is Rs.7,010.
4) Tata Stryder Scarlet Red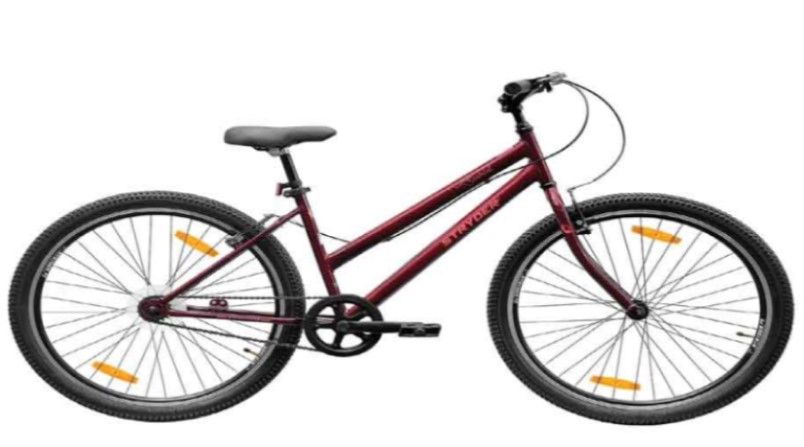 Tata Stryder is the subsidiary of Tata International Limited. Tata is a household name in India and is recognised for their reliability and trust in every industry they have taken a part in. Tata Stryder has an extensive line-up of cycles for every age group. The Tata Stryder Scarlet Red is a women's cycle with an elegant design and comes with a red colour theme as the name suggests.
Features:
The Stryder Scarlet Red comes with modern features such as alloy wheels and quick saddle release. It is equipped with rigid front fork on the front, PU padded seat and V brakes with alloy brake levers. The total weight of the bicycle is 14 kgs which makes it easy to handle.
Tata Stryder Scarlet Red price is Rs.9,725.
5) Avon Rohini IBC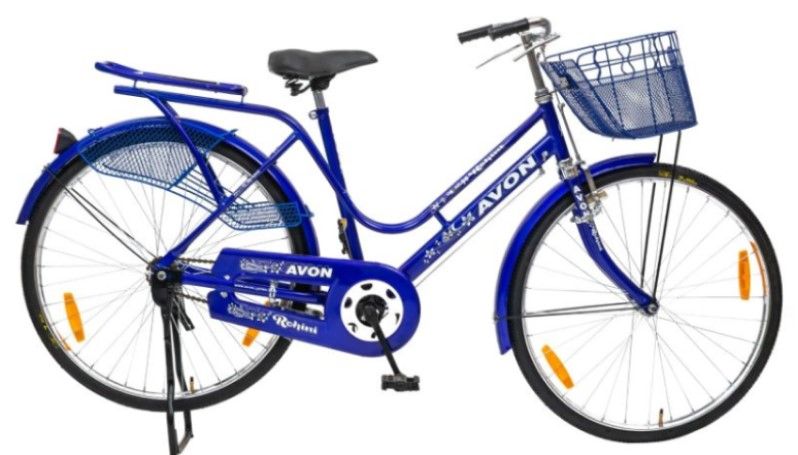 Avon is one of the leading cycle brands in India. And has been developing impeccable cycles for Indian riders. Avon cycles are cost efficient and are specifically built for the Indian needs. Avon Rohini as the name give the Indication is a cycle for women. The cycle is elegant yet simple. The out of the box design separates it from others in its segment.
Features:
Avon Rohini has as eye catching design, rigid curved fork at the front, well-padded seat, steel body and is single speed.
Avon Rohini IBC price is Rs.7,436.
Also Read: Road Bikes Under 50,000