Kids Bicycle under 10,000 in India
Posted by Utkarsh Gusain On 22-Feb-2022 07:16 AM

2265 Views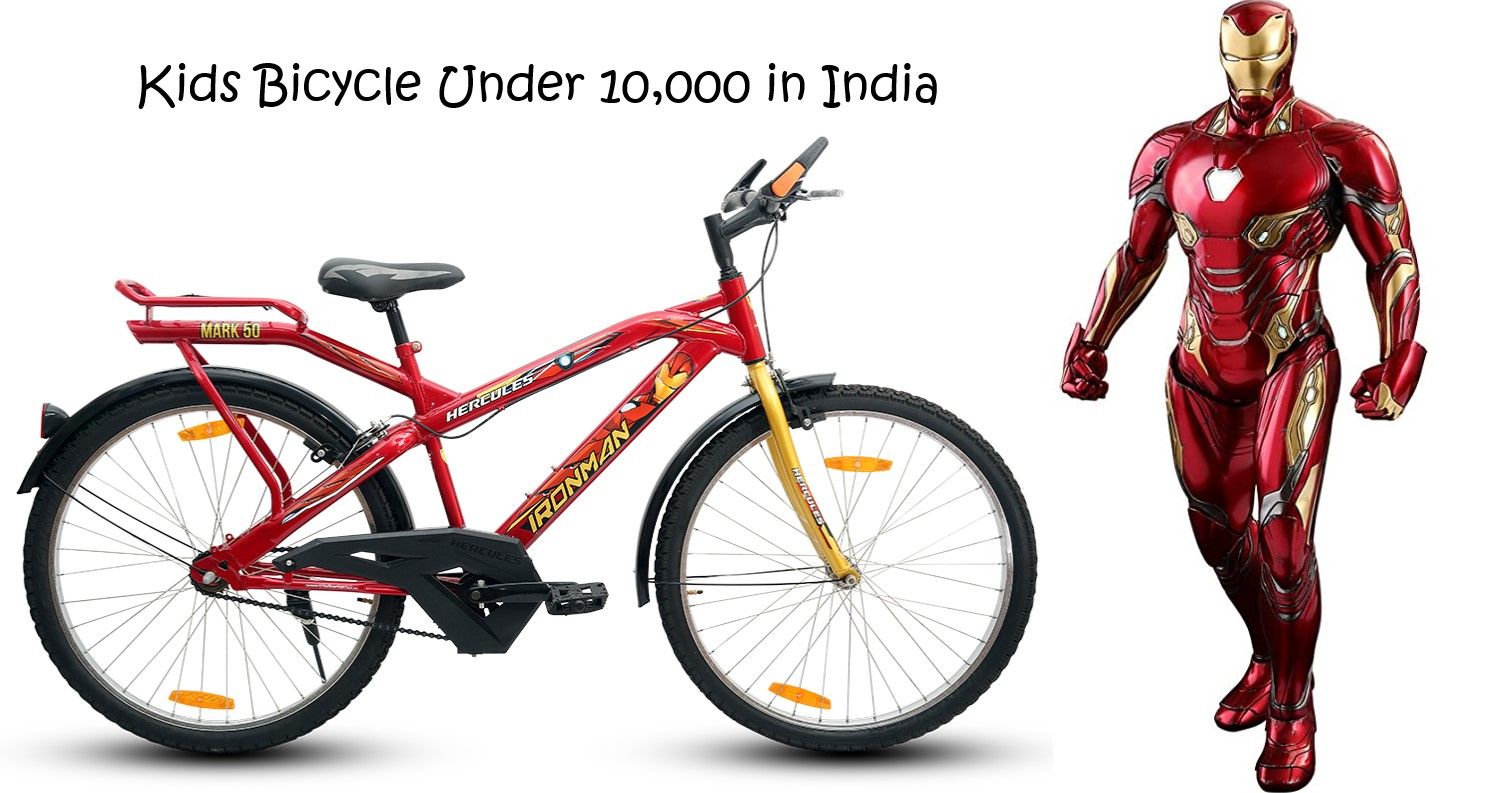 Cycling is one of those things which is one of the most memorable part of our childhood. As a kid everybody has rode a bicycle, whether you commuted to school by a cycle or drag raced it in the mud with your friends. This part of our childhood still gives a sense of nostalgia whenever we ride cycles in our adult life.
But at present times cycling and other outdoor activities are not cup of milk for the kids of this generation. Instead they want to use smart phone, post stories online, play Xbox, etc. which adds to a lot of screen time. This leads to an unhealthy lifestyle and anti-social behaviour. To grow their personality and create some real memories they have to go out and enjoy with friend in real life.
Riding cycles with friends is fun, good for health and fitness and creates a factor of competition in kids. If you are looking to buy a bicycle for your kids or it can be your little brother/sister you are on the perfect site. Here we will list top kids bicycles you can buy and their prices to make things easier. And Kids bicycle price is lower compared to a cycle for an adult.
Here is a list of budget bicycles for kids:
1) Hercules Ironman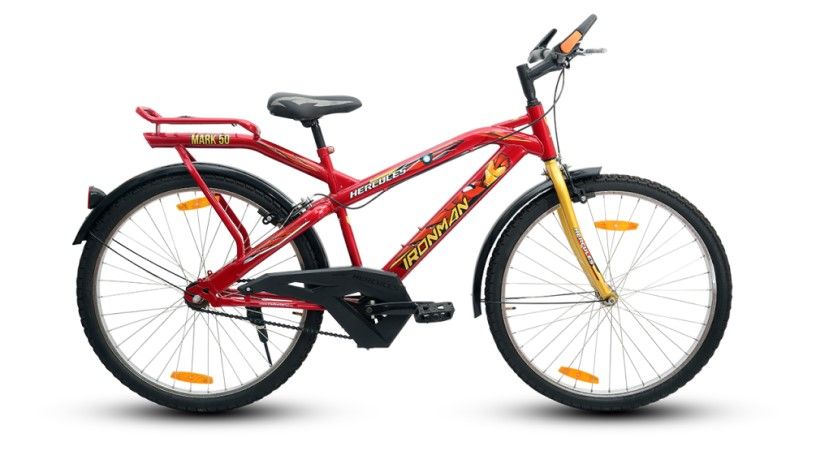 Hercules Cycles and Motor Company is a British bicycle brand. The company is a pioneer among other cycle brands and has been producing cycles since 1910. In India Hercules is a household name and is known for manufacturing affordable cycles which are stylish as well as durable. There's no doubt why this company is one of the top cycle brands in India. The Hercules Ironman is a cycle based on the Marvel Comics superhero Ironman who is part of the Avengers franchise and has series of independent movies too. Iron man is a popular name among Marvel fans whether it's a kid or an adult.
Feature:
The Hercules Ironman is covered with attractive graphics of the Superhero Ironman with red and yellow colour theme. Adding to its aesthetic appeal for kids, the bicycle has a very sleek design and athletic frame. Apart from physical features the bicycle is equipped with powerful v-brakes, thick and stable tyres for balance, attractive chain cover for protection, comfortable and cushioned saddle. The straight handlebar is provided with bar-ends for comfortable gripping. The Hercules Ironman cycles is available in more than one tyre sizes which makes it eligible for a wide age range of kids.
Hercucles Ironman price is Rs.6,500.
Also Read: Top 5 MTBs in India
2) Btwin Original 50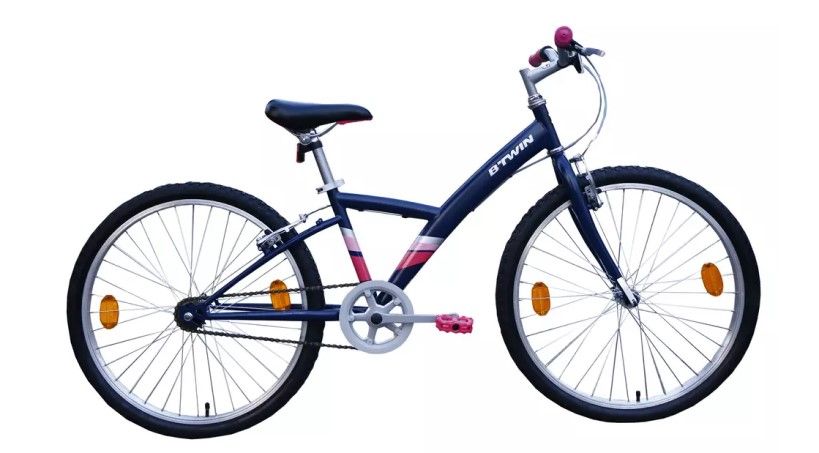 Btwin is the sub-brand of the sports giant Decathlon. Decathlon manufactures cycles under the name of Btwin. These cycles come in good quality and inexpensive prices. Btwin also provides warranty on most of their products, which ranges from 2-10 years. The brand has built a large customer base with trust and reliability. They have an extensive range of cycles and cycle accessories for kids and adults. Here we are going to talk about their high selling kids bicycle model named Btwin Original 50.
Features:
Design wise, unlike Hercucles Ironman the Btwin Original 50 has a more decent and simple charm to it. For kids who are introverted, this cycle will reflect their personality and complement their simple nature. The bicycle comes with an elegant steel frame, rigid steel fork, helical spring v-brakes and steel handlebar. The bicycle is single speed with KMC chain. The steel built of the bicycle makes it much durable and last longer. Btwin provides a lifetime guarantee on its frame, stem, fork and handlebar which is another assurance from the brand.
Btwin Original 50 price is Rs.6,999.
3) Hero Fairy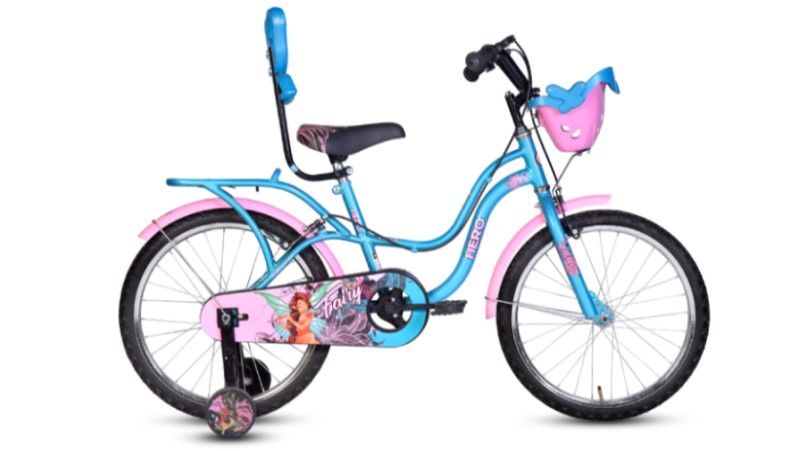 Hero Fairy is a cycle launched for girls only, by the biggest manufacturer of cycles in India itself. It would not be wrong if we say Hero cycles is the most trusted and established cycle brand in India. The home-grown company has doubled its revenue in 2020 and continues to grow with a good pace. Hero has also acquired the premium cycle brand Firefox which is also one of its accomplishments.
Features:
The Hero Fairy bicycle has fairy theme as the name suggests itself. The cycles has a very girly design and cheerful appeal which attracts younger age girls. The cycle has a curvy steel frame which is durable and aesthetic. A rigid front fork made out of steel, single speed with cottered crank set and a protective chain covering cover with fairy graphics.
Hero Fairy Price is Rs.5,955.
Also Read: 5 Best Cycles for Fitness in 2022
4) Hercules Black Hunter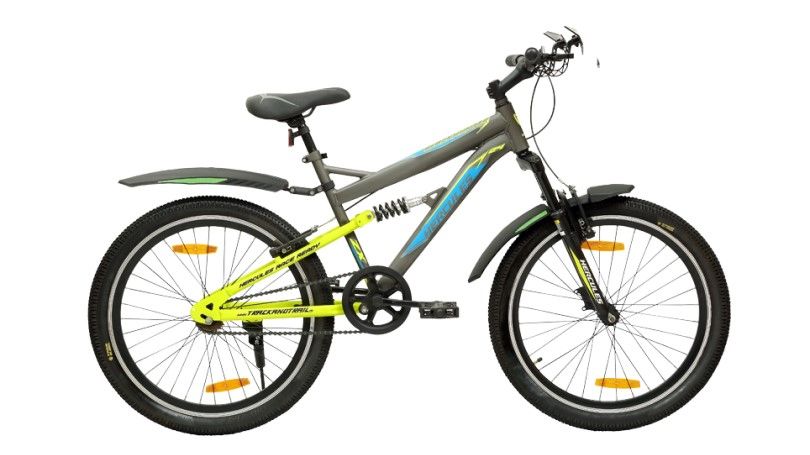 Another stylish and athletic bicycle for boys is the Hercules Black Hunter. Hercules is too big of a brand to not appear in this list again. If you are a boy under the age of 12, this cycle is the epitome of style and design.
Features:
The brand has provided the Black hunter with knuckle guards which is very rare for cycles to be equipped with. The guards flaunt a vibrant Hercules branding on them. This feature separates the Hercules Black Hunter from others in its segment. This Bicycle is also provided with suspension system under the seat and front wheel which make the ride more comfortable for kids, heavy tires for better gripping on the roads, a foam saddle and a straight handlebar with PVC grip. Pedals and tyre rims are combined with reflectors for visibility at night time. The cycles is covered with Hercules branding all over its parts such as fork, tyres and frame. The full suspension cycle comes in single speed and a cotterless crankset. With all these necessary feature the Hercules Black Hunter comes in a much affordable price.
Hercules Black Hunter price is Rs.9,745.
5) Btwin Robot 2.0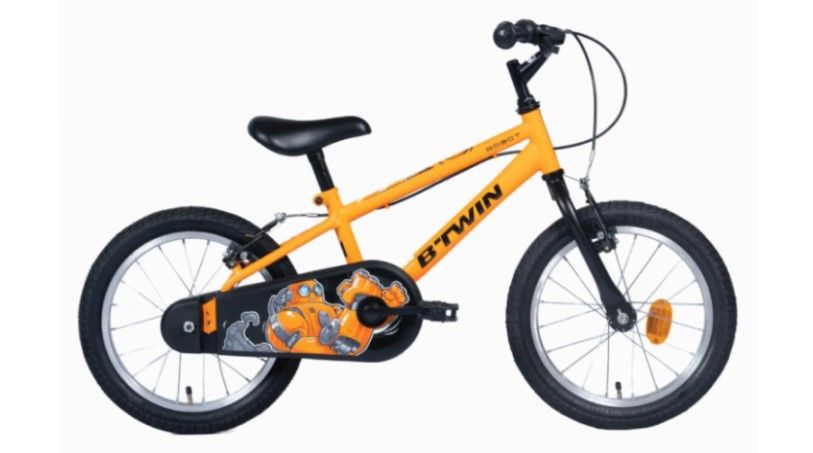 The Decathlon cycle subsidiary jumps back on this list with another kid's bicycle for 4-7 age group. This cycle is featured in this list for much younger kids. The cycle is named Btwin Robot since it is based on a robot theme to draw interest among kids.
Features:
The Btwin Robot 2.0 comes with a relatively smaller frame and wheel size considering it is built for smaller kids. The protective chain covering on the bicycle styles a Robot graphic on it. The light weight steel frame has Btwin Robot branding on it. Front rigid fork is durable. Btwin offers 2 year warranty on this bicycle.
Btwin Robot price is Rs.5,499.
Also Read: Road bikes/bicycles under 50,000 in India