Road Bikes/Bicycles Under 50,000 in India
Posted by Utkarsh Gusain On 19-Feb-2022 08:40 AM

3671 Views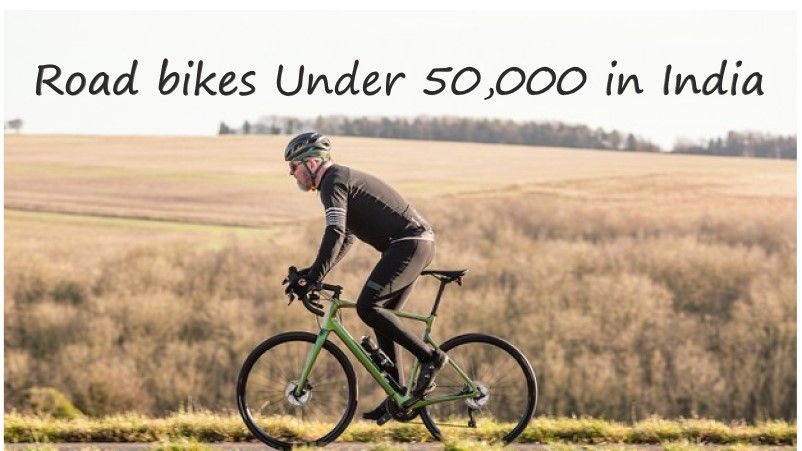 Cycles in India have a very large history and a remarkable one. Since then they have transformed from commuter bikes like Atlas Super Strong to coming in different ranges like MTBs, Road bikes, Folding bicycles and Hybrid bicycles.
Talking about road bikes which are built specifically for speed with thin tires and aerodynamic positioning, have a huge following of cycling enthusiasts all over the world. Road bikes are not equipped with suspension system since it doesn't have a practical requirement on plain roads. A road bike frame combined with a front suspension and off-road tires will be called a gravel bike which is more suited for uneven terrains and is a blend of an MTB and a Road bike.
For maximum speed these bicycles have more complex designs, light weight frame materials and elite gearing requirements. These features come with a price tag and this is the main reason why road bike cost more compared to other bicycles. But Indian market is all about affordability and getting the worth for the money spent.
So here is the list of 5 budget Road bicycles under Rs.50,000 :
Btwin Triban RC 100: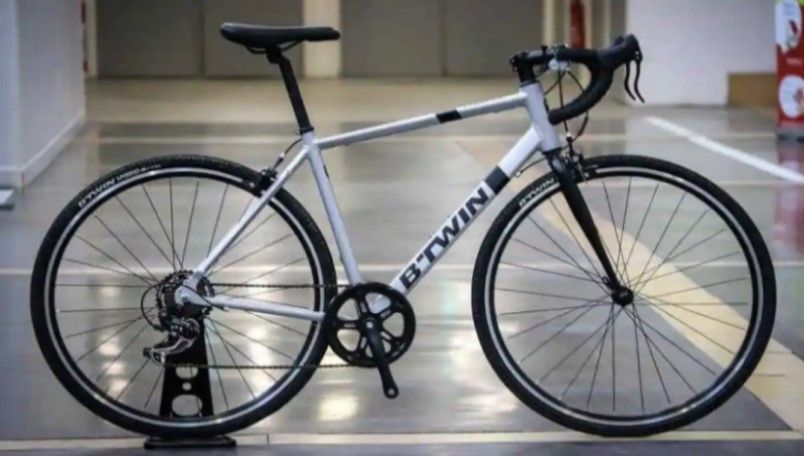 Btwin, the cycle subsidiary of the sports giant Decathlon which has an extensive variety of cycles and budget friendly products for every age group. They are majorly known for delivering good quality cycles on an affordable price range. The Triban RC series by Btwin is the range of road bikes which are classy and decent at same time. These are a collection of speed and cost efficient cycles and have gathered a huge following from Indian cycle lovers.
Features:
Btwin RC 100 is an entry level road bike with features such as aluminium alloy frame for lighter weight, a curved drop handlebar with speed shifters for fast gear shifting and a rigid steel front fork. The bicycle comes with an adjustable seat post and quick release on the front wheel. Gearing unit comprises of 7 speed Shimano A050 derailleurs. Braking set involves Tektro RL 340 brake levers which provide quick and reliable braking. Btwin provides a lifetime warranty on frame, handlebar, stem and fork of this bicycle which shows the trust of the brand on its products. This entry level road bike comes with one of the most affordable price tag in our list.
Btwin Triban RC100 price is Rs.29,999.
Also Read: 5 Best Cycles For Fitness in 2022
Firefox Maestro: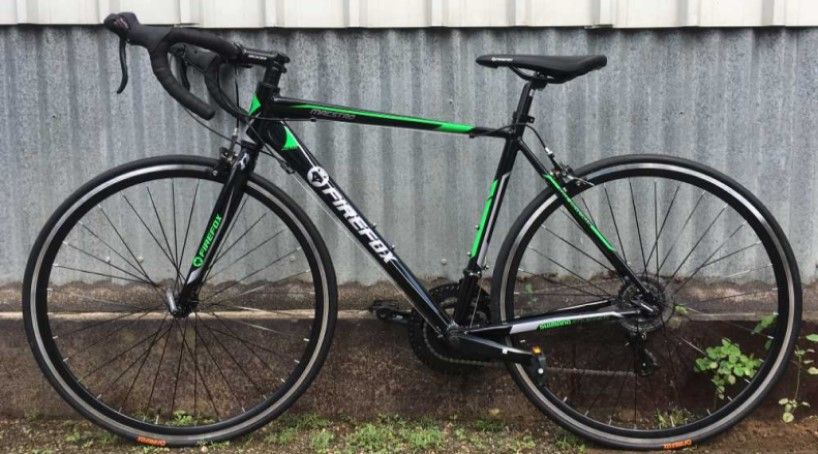 Firefox is one of the leading cycle brands in India since when they entered the market back in 2005 and are known for their premium high quality products. The potential of Firefox as a brand can be known by the fact that it was worthy of getting acquired by Hero cycles which is the biggest cycle manufacturer in the country. Their product reliability and prices are the reason they are one of the most recognised cycle brands in India. Firefox Maestro is their budget road bike which they launched for cycle enthusiasts in India and it has been a fan favourite due to many reasons, mainly for its affordable price point.
Features:
The Firefox Maestro comes with an alloy frame to reduce its total weight, rigid front fork, Wanda 700x25c tires with double walled alloy rims and braking consists of Tektro alloy caliper disc brakes. Gearing features involves Shimano Tourney A070/ Microshift R 14-Speed drivetrain. Compared to features which are provided by the company, the cycles comes at a very cost efficient price tag.
Firefox Maestro price is Rs.33,000.
Btwin Triban RC120: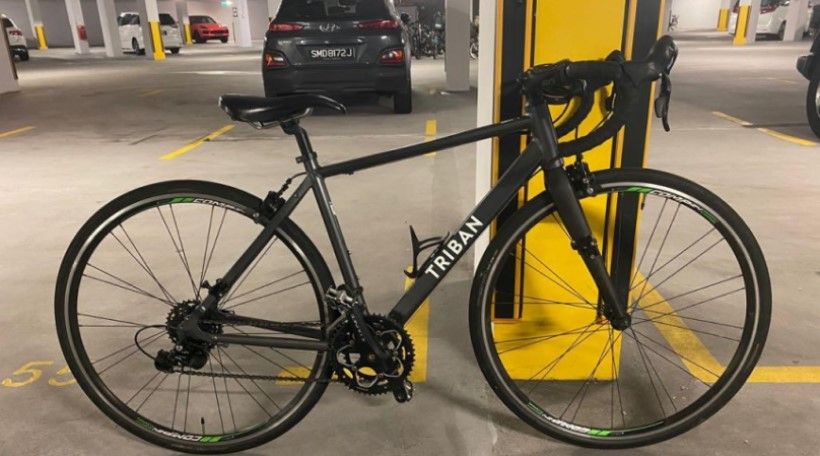 Another cycle from Btwin Triban RC series has made it to our budget road bike list for similar reasons as Triban RC 100 but this one has more to it. The Triban RC series is mainly a road bike for beginners. The Btwin Triban RC120 share some of the key qualities from its sibling Triban RC100.
Features:
Btwin Triban RC120 comes with an aluminium alloy frame which has an aggressive geometry and a drop handlebar with Microshift 8 speed shifters. The bicycle has a rigid steel fork holding the front wheel. The gearing system is 8 speed R8 derailleur on front and Microshift rear derailleur. The bicycle comes with disc brakes on the front. The tubeless ready wheels come with steel spokes for rigidity. The total weight of the bicycle is 11.25kgs which makes it easy to handle on roads.
Btwin Triban RC 120 price is Rs.49,999.
Also read: Top 5 MTBs in India
Cosmic Bicycle 700C RX25 14SP: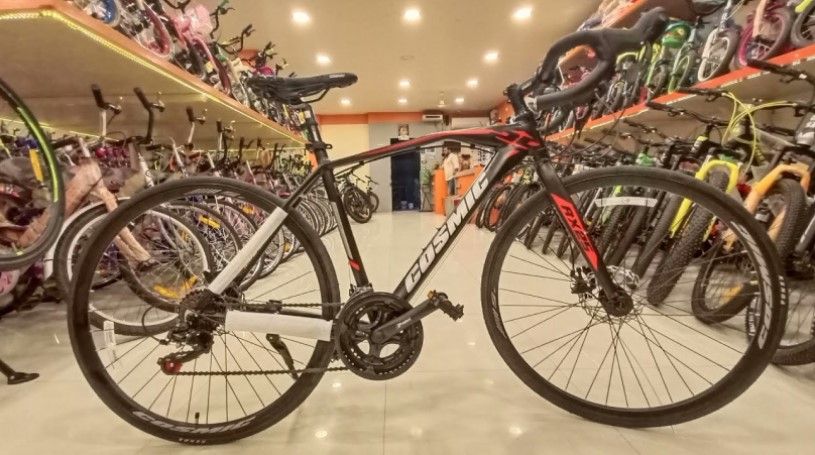 Cosmic bicycles is the brainchild of Nandi marketing group which is an importing unit of a number of cycling companies on a global level. They provide a variety of cycles and cycling accessories for kids and adults. This road bike from cosmic bicycles is provided with good quality equipment and retailed at an affordable price point. The cycle is named on the brand- Cosmic Bicycle 700C RX25 14SP.
Features:
The Cosmic Bicycle 700C comes with an alloy frame, drop handlebar with Shimano Microshift gear shifters for quicker shifting and a rigid fork on the front. 700C X 25C Kenda tires, Shimano Microshift front and rear derailleur with 14 speed combined with Prowheel chain wheel crank. The company has also provided disc brakes on the front and rear wheel which takes the braking to its full efficiency.
Cosmic Bicycle 700C price is Rs.36,000.
Firefox Tarmak: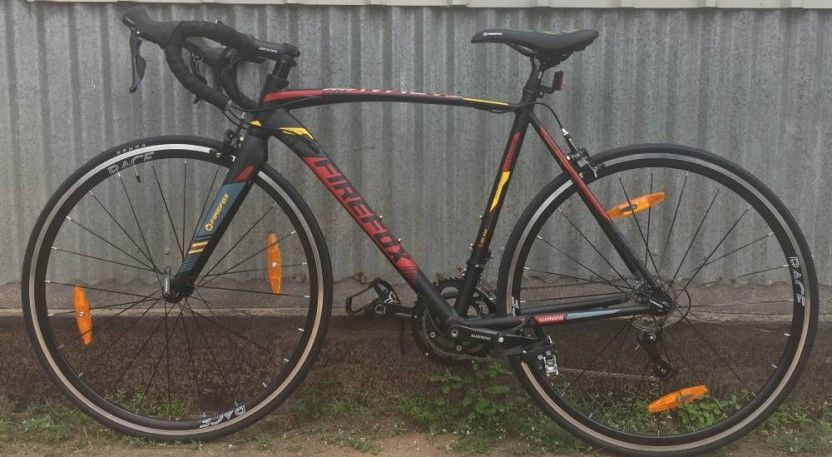 Another road bike from the Hero cycles subsidiary brand- Firefox has made it to this list due to similar reasons as Firefox Maestro and more. The Firefox Tarmak is an entry level road bike from the brand and comes with a budget friendly cost. This bicycle is a very good choice for beginner level cyclists who want a road bike and don't want to spend a fortune while buying one.
Features:
The road bike comes with alloy carbon rigid fork, alloy rims, handlebar and alloy body frame which makes the bicycle weigh much lighter. Gearing is handles through 18 speed Shimano Sora front and rear derailleurs and Shimano Sora shifters. Tektro R312 caliper brakes are a reliable choice. The total weight of the Tarmak is 11kgs which is a key factor for its extraordinary speed. Despite all the features Firefox has provided, they have kept the price point under the 50k mark which is appreciable.
Firefox Tarmak price is Rs.44,000.
Also Read: Why Should You Buy A Bicycle In 2022