How to Use Bike Chain Lube to Keep Your Parts Running Smoothly?
Posted by Priya Singh On 29-Apr-2022 05:35 AM

2265 Views
Bicycle lubricants are very necessary for bicycles to keep them running smoothly. We are here to tell you, how to use lubricants in order to make your ride a smoother one.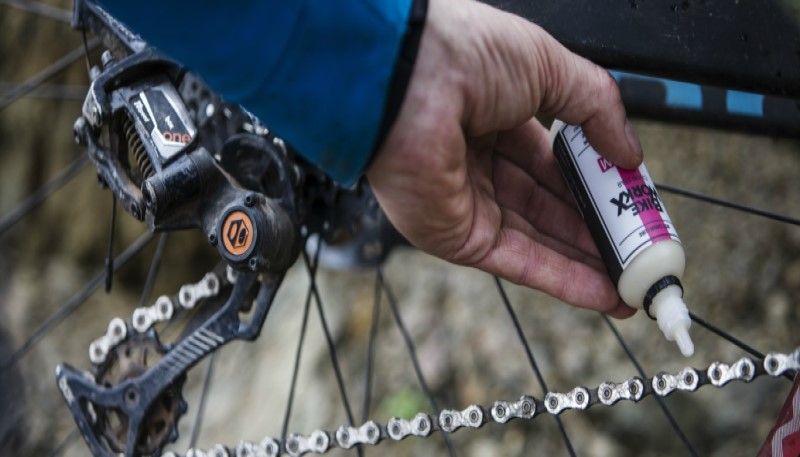 For some, bike lubricant is a necessity to keep moving parts, in a running condition. Whether you try to buy an affordable one or prefer the high-quality ones, the thing that matters is that without the proper lube applied to the specific places, your ride will come to a halt or it will keep you waiting in the middle of the road. The chain is your bicycle's lifeline as it delivers the power from your muscles to the tires. And you really don't want the lifeline of your dearest cycle to stop working right? You always need to keep it in good condition to use your cycle efficiently. To increase the life of the bicycle you need to lube the bike chain regularly. Any chain will rust if it's not lubricated, and the seals will become dry and crack, letting that grease escape. The chain won't shift smoothly. Top 10 bicycle chain lube –
Smoove Lube- the energizer bunny of chain lube
Rock N Roll – Workhouse all- rounder chain lube
Silica super-secret chain lube – easy to apply
Green oil-wet tube – good for chain and environment
Finish line wet – will survive the flood
CeramicSpeed UFO drip Ceramic lube – fastest drip chain lubes money can buy
Tru tension All Weather – high money to watts and durability ratio
Squirt chain lube – high performance
AbsoluteBlack Graphenblue – high durability
Muc-off Ludicrous AF – the world's fastest chain
Here's how to use bicycle chain lube and lubricate your bicycle's other moving parts. Honestly guys, it's not rocket science, everybody can do it. Follow these simple steps to lubricate the bicycle chain.
1. Select the right lube
There is a wide range of chain lubes available for various conditions. Before selecting the lube, just figure out the weather where you ride. Different lubes are available for different conditions like wet lubes for rainy conditions, snow, or slushy roads, and others designed to work in dry environments. Mostly wax-based lubes are used in dry climates. They are less messy and will keep your chain, hands, and clothes tidy too. Advanced lubricants were developed to penetrate chain link plates quickly and last a long time.
2. Clean the bicycle chain
The bicycle should be in gear, so you can backpedal freely. Using a dedicated bike stand is the best solution as the wheels are off the ground. Apply some kind of degreaser to the chain. If you don't have a dedicated chain cleaning device, you can usually find a chain cleaning tool at your local bike shop, but this combo isn't as convenient or as clean. The spray from the brush as you work to clean the chain can leave you peppered with greasy bits of debris!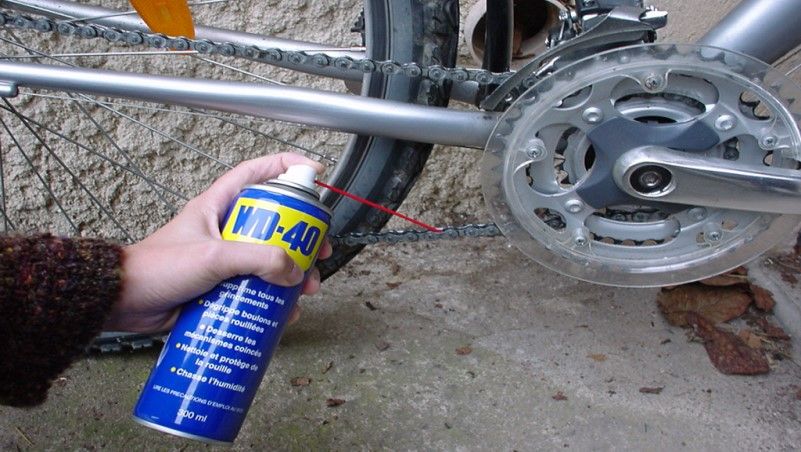 3. Applying the lubrication
Shake the container thoroughly before use because chain lubricant contains different components that get settled down. Position the tip of the bottle upside down over the chain. Now, gently squeeze the bottle so that drops of lubricants fall onto each link in the chain. For even distribution of lube, slowly pedal backward with your free hands. To work the lubricant into the link plates, lightly place your thumb and forefinger over the chain and run it through your fingers. You should be able to feel missed spots and it helps to distribute the lube throughout without the need to reapply. Repeat this process until you are satisfied and then leave the product to soak in, overnight is best. You should not immediately head out on a ride.
4. Wipe off excess lube from the chain's surface
If you want to lube your bike chain properly, remove excess lube from the chain's surface by using some old t-shirts. Although many people skip this step it is an important one. Why it is important? Because friction will occur between them and it will also attract dust.