Indian Cricketer Virat Kohli Gets Audi e-Tron And e-Tron GT New Electric Cars
Posted by Rakhi Jha On 24-Dec-2021 01:16 AM

435 Views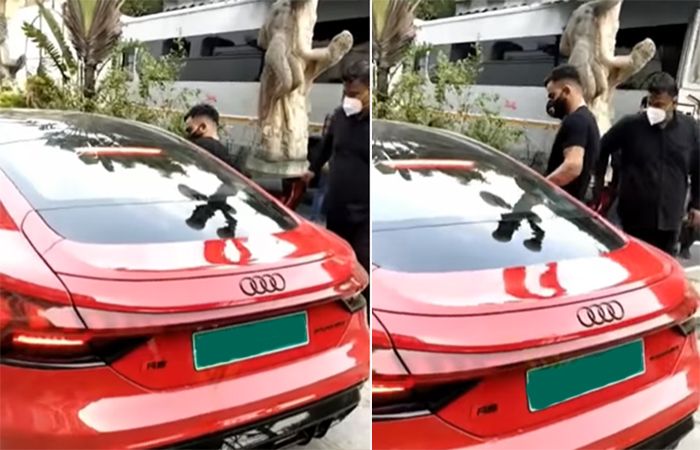 Indian Cricketer Virat Kohli has been known for his passion for the game, there is also another reason that Virat Kohli is being highly praised is-for his love for cars. This cricketer had been owned some of the fire-breathing supercars to a super-luxurious SUV.
Currently, Virat Kholi is serving as the brand ambassador for Audi for a long time in India. Because of this, he has been awarded, Audi Cars in the past.
Recently, getting the sneak-peak of Kohli garage, it is bearing the famous logo of four interlinked rings are the Audi e-Tron and e-Tron GT.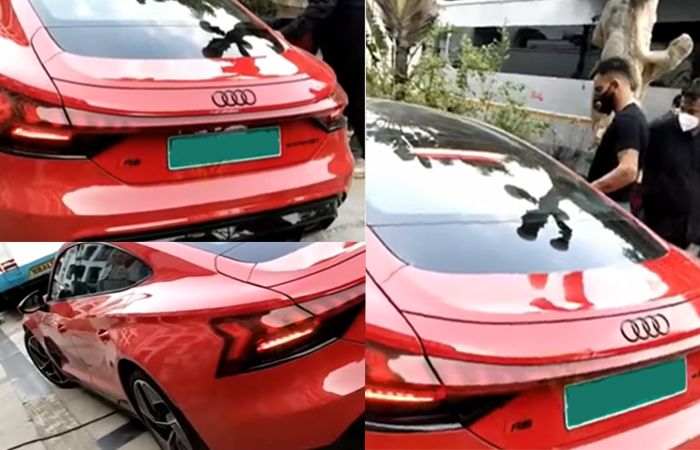 Recently received some of the separate videos, Virat Kohli can be seen in a blue-coloured Audi e-Tron electric SUV and red-coloured Audi e-Tron GT four-door electric coupe.
To See the Video, Click Here.
These cars have been registered in the of Skoda Audi Volkswagen India Pvt Ltd, which is the parent company of Audi India.
Also Read, Upcoming Luxury Cars in India in 2022
After doing some research, these cars seem to have been rewarded to him. We did not receive any confirmation of this news, but it looks like Virat Kohli got his present before New Year.
The Ace Cricketer Virat Kohli has also owned a range of Audis like the R8, R8 LMX, R8 V10 Plus, A8 L W12 Quattro, RS5, S6, Q7 and Q8. Apart from this he also owned a few other luxurious offerings like Range Rover Vogue, Lamborghini Gallardo, Bentley Continental GT and Bentley Flying Spur.
Audi e-Tron Super Electric SUV
-Audi e-Tron Super Electric SUV Price
Audi e-Tron SUV comes at a price of Rs 1.18 crore.
The blue-coloured Audi e-Tron super electric SUV is the range-topping e-Tron 55 variant, which gets an all-wheel-drive layout with a combination of two electric motors. The combined power and torque outputs of the e-Tron SUV are rated at 402 bhp and 664 Nm. The 95 kWh lithium-ion battery of the e-Tron 55 offers a maximum driving range of 484 km.
Audi e-Tron GT Super Electric Car
-Audi e-Tron GT Super Electric Car Price
Audi e-Tron GT comes at a price of Rs 2.16 crore.
On the other hand, the red-coloured Super Electric Audi e-Tron GT Car is also the range-topping variant, the e-Tron GT RS. With an electric motor at both front and rear axles, the e-Tron GT RS gets an all-wheel drive, with the combined power and torque outputs from the two electric motors being 637 bhp and 830 Nm. This car has an 84 kWh lithium-ion battery, which gives a maximum range of 472 km.
Audi has been awarding such luxurious cars to the celebrity as a strategy remark, to grab the attention of the fans, Seeing your favourite celebrity increases the car's desirability factor by multiple times. Apart from Virat Kohli, Bollywood celebrities like Karan Johar and Kiara Advani had also been awarded Audi A8 L by the German carmaker as part of their marketing strategies.
In the era where Electrification is boosting with this pace, Maybe Audi again this time followed their strategy to take over the Electric Market.