Toyota Corolla Cross debuts in International Markets: Soon in India?
Posted by Sachit Bhat On 03-Jun-2022 04:34 AM

3114 Views
New Toyota Corolla Cross now gets Hybrid Tech and some additional upgrades. The more efficient, 5th-gen hybrid technology will debut alongside Corolla Cross Hybrid.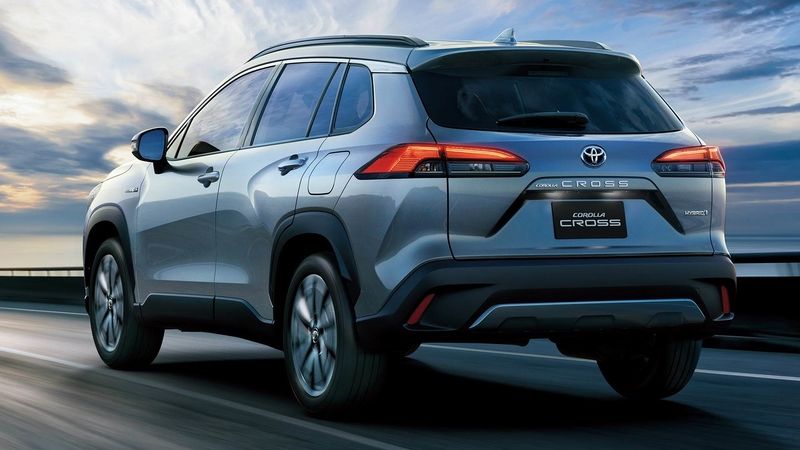 In international countries, the Toyota Corolla Cross is a popular vehicle, and for the 2023 model, Toyota has added a hybrid option to the crossover. Toyota's 5th generation hybrid technology, which is substantially more efficient than the previous generation, debuts with the 2023 Corolla Cross Hybrid.
There are some slight alterations to the model's front fascia in terms of appearance. Toyota offers a total of ten color options, six of which are single solid color options and four of which are dual-tone options. Sonic Silver, Acidic Blast, Blue Crush, and Barcelona Red are some of the dual-tone combinations that come with a blacked-out roof.
There are five trim levels in total, including LE, XLE, S, SE, and XSE. On the XSE, SE, and S trims, a sports option is offered. Premium SofTex faux leather upholstery is standard on the XSE trim, while fabric seats are standard on all other versions. Toyota's current generation infotainment system is also included in the Corolla Cross Hybrid. This is an 8-inch touchscreen device with wireless Android Auto and Apple CarPlay capabilities. The Toyota Sense 3.0 tech pack is also available as a standard feature across the entire lineup. Lane keeps assist, lane centering, automatic emergency braking with pedestrian detection, and adaptive cruise control are all included in Sense 3.0.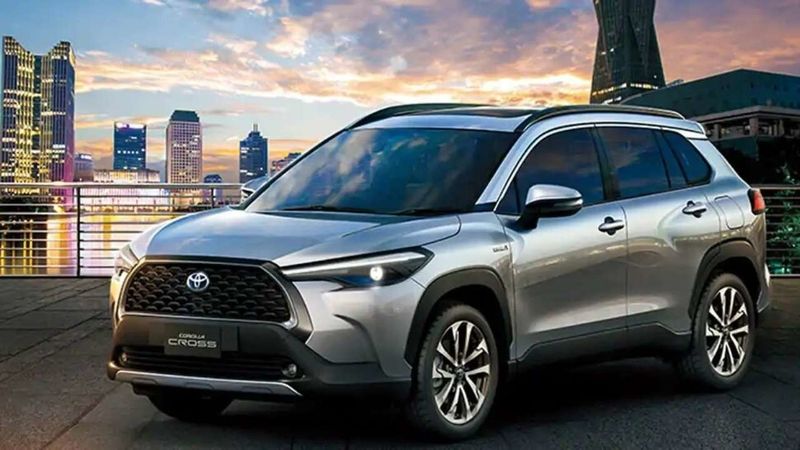 All-wheel drive (AWD) is standard across the hybrid lineup, yet it still manages to obtain around 37 miles per gallon, or 15.5 kilometers per liter. Customers will receive a 4-cylinder petrol engine (mated to the hybrid system) that produces 194 horsepower, which is around 25 horsepower more than the normal Corolla Cross. The extra power allows it to go from zero to sixty miles per hour in roughly eight seconds, which is a second faster than the non-hybrid version. The regular Corolla Cross starts around $23,660 in the United States, which is roughly equivalent to 18L INR. With the addition of Hybrid technology and other changes, the 2023 Corolla Cross Hybrid is expected to cost roughly $25,000, or around 21-22 lakh rupees.
We don't believe Toyota will bring the Corolla Cross to India, either with or without Hybrid technology. Toyota is currently developing two SUVs for the country. There will also be a facelifted Urban Cruiser, which will take design cues from the Maruti Brezza, which will be unveiled soon. The 2022 Urban Cruiser is scheduled to debut within a month or two of the new Brezza's debut. The more intriguing model, on the other hand, is still in the works.
Toyota and Suzuki are working together to develop a Creta-Seltos-rivaling midsize SUV for the Indian market. Initial test mules spy shots have already appeared on the internet. Around the 2022 holiday season, a Toyota-badged variant could make its debut (Q4 of the current calendar year). It'll most likely be called HyRyder when it debuts. Maruti's version of the SUV is slated to debut in January 2023. We don't believe the Corolla Cross has a place in Toyota's lineup, despite the fact that we still miss seeing the Corolla logo in Toyota showrooms.