The new mild-hybrid tech Merc GLC 2022 SUV model unveiled
Posted by Ashish On 07-Jun-2022 11:29 PM

3241 Views
The upcoming next generation Mercedes-Benz GLC 2022 SUV India model brings mild-hybrid technology as standard on all variants, along with a fresh new look and design, and upgraded technology.
The freshly upgraded GLC SUV 2022 is the latest generation one and in fact the Mercedes Benz GLC SUV model is the company's best-seller worldwide, among others. The new generation Merc GLC 2022 model is a much awaited vehicle, and it is coming to India soon! The 2022 GLC SUV sports a fresh design and look, technological upgrades and is equipped with a mild-hybrid technology as standard on all variants of the model.
The new 2022 GLC fares a bit bigger in size than the existing GLC model, as it is longer by 60 mm at 4,716 mm, and by 15 mm the wheelbase has expanded to 2,888 mm. But at 1,890 mm, the width of the SUV has been retained as it was. In terms of the new Merc GLC design, largely the shape remains the same, but introduces a slew of upgrades in exterior styling such as a modified bumper in the front, bigger notable grille in the front, triangle LEDs at the rear, new front LED lights, and brand new designed spoke alloy wheels.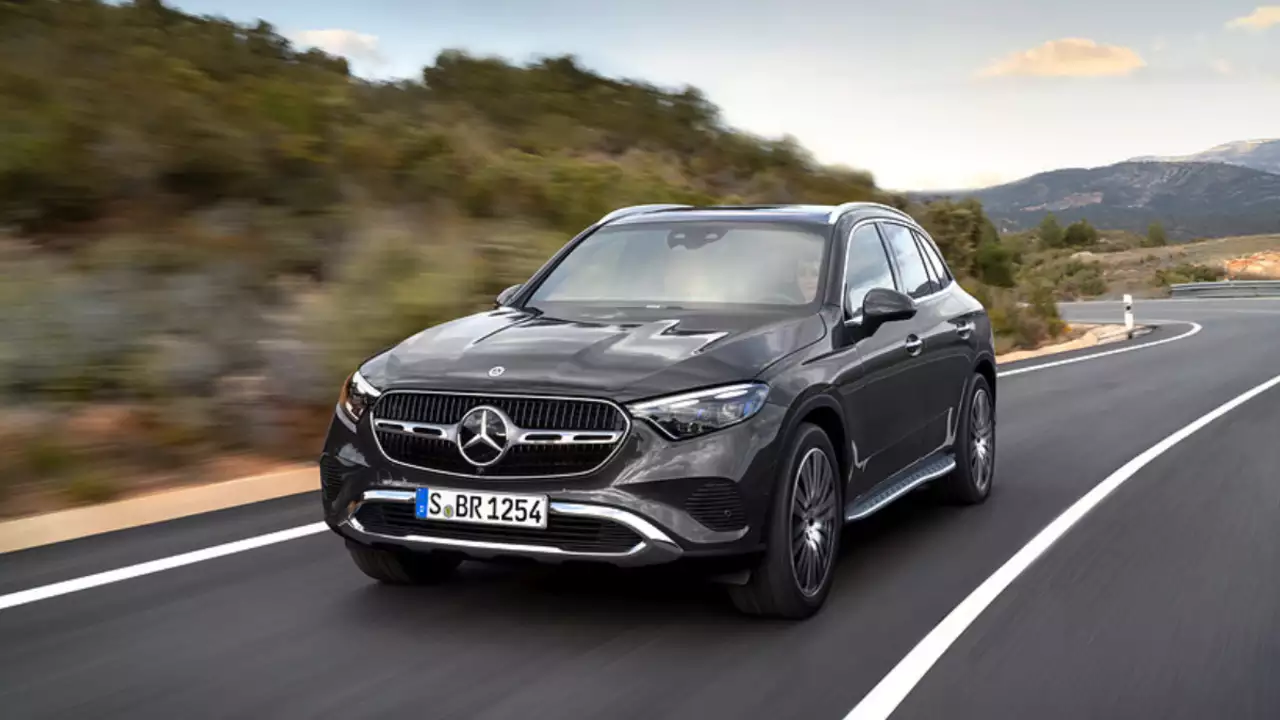 Talking of the interior, the newly launched 2022 Mercedes C-Class in India is the inspiration for the next-gen GLC SUV with many similar features, like a fully digital console, and Mercedes Benz's latest MBUX OS powered big vertical touch-enabled infotainment system.
The latest GLC SUV mild hybrid technology is a standard option, whereas three separate versions are equipped with plug-in hybrid technology.
Every Mercedes Benz GLC SUV trims get 2 litre, 4 cylinder, turbo diesel and petrol engines with varied tuning in each variant.
The new 2022 Mercedes Benz GLC SUV 200 4MATIC engine produces 201 hp & 320 Nm torque, while the GLC 300 4MATIC churns out 254 hp & 400 Nm of torque. The 220d 4MATIC GLC SUV's diesel engine generates 194 hp & 440 Nm torque.
Furthermore, the Mercedes Benz 300e 4MATIC GLC plug-in hybrid SUV's motor churns out 309 hp & 550 Nm torque, while the GLC 400e 4MATIC SUV generates 376 hp & 650 Nm torque, and the GLC 300de 4MATIC produces 330 hp & 750 Nm of peak torque.
Powering the Mercedes Benz GLC SUV plug-in hybrid variants is a battery pack of 31.2 kWh that's ideal for a fully electric vehicle range of more than 100 kms. The new 2022 GLC SUV plug-in hybrid's battery has a 60 kW DC fast charger with a capacity to load up 0 to 100% charge in a mere 30 minutes.