Mahindra Teases 3 EV SUV to be Unveiled in July 2022
Posted by Arun Dagar On 12-Feb-2022 11:58 AM

4417 Views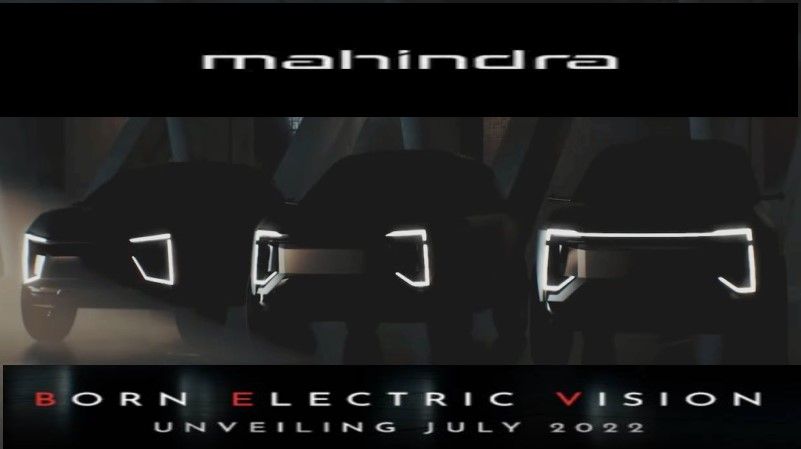 Mahindra will launch 3 all-new Electric SUV and has teased the new EV concepts under its 'Born Electric Vision'. Mahindra is looking to get a stronghold in the highly lucrative electric car segment in India, which is still in its early stages. Here are all the details about the new Mahindra Electric SUV:
All three Mahindra electric SUV will be based on the company's in-house developed Electric car platform which is internally named as the 'Born Electric' platform with the new Electric Concepts designed by the MADE (Mahindra Advance Design Europe) design studio in UK.
The current head of the MADE design studio is famed car designer Pratap Bose, the man credited to have turnaround Tata Motors cars with brilliant new design language. Pratap Bose left Tata last year and joined Mahindra and looks to have instantly made some exciting products for the company.
Mahindra has re-structured itself as an SUV only company and it looks as if the same philosophy will be followed for the Mahindra electric cars as well and judging by the teaser from the company the new concepts certainly look promising.
The three Mahindra EV concepts are going to be a compact SUV, a midsize SUV and a Coupe SUV-inspired by the Mahindra XUV Aero Coupe concept shown at the Auto Expo. However, Mahindra has silently developed a EV platform which will definitely help the E SUVs, which will be revealed in July 2022.
The teaser video doesn't show much but the prominent thing visible in the teaser are the concept electric SUV's headlights and taillights. All three e SUV get large, C-shaped LED headlights and taillights. The only difference being the size of the first two, while the third SUV gets full-width, LED light bar at the front and the rear. This may signify that the cars will be different iterations of a single model.
Mahindra had at the Auto Expo shown the eXUV300 concept which was expected to launch this year but this teaser clears one thing that the Mahindra eXUV300 may have been completely removed from the Mahindra SUV line-up and replaced by one of the three bespoke electric SUV shown here.
The 'Born Electric' EV platform will help Mahindra to launch exciting electric car without the restrictions of an ICE platform re-designed for use in an electric car. The mid-size e SUV may be the electric Mahindra XUV700, while the electric SUV coupe may as well be the XUV900 coupe concept in an electric avatar.
The compact SUV is yet to be confirmed but may as well be christened as an XUV. Stay tuned for more details of these electric cars and do check out other electric car news on the website.