No Helmet, No Petrol is the new safety mantra
Posted by Salman On 17-Aug-2021 02:35 AM

65471 Views
Nashik introduces a new campaign to encourage safety awareness.
● Nashik has launched the No Helmet, No Petrol campaign to enhance safety awareness. ● About 825 people have lost their lives in road accidents in Nashik alone in five years. ● Among these, 397 were two-wheeler drivers riding without helmets at the time of the accident.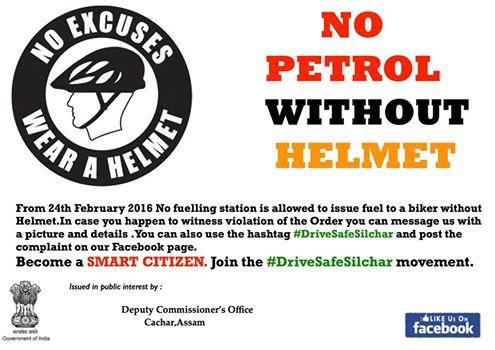 Loss of human life in road accidents is always tragic, and it is more so when it is due to the carelessness of the concerned individual. Nashik in Maharashtra has witness 782 accidents on the road in the last five years. As a result, 825 people have lost their lives, comprising of 467 two-wheelers. 397 of these two-wheeler drivers were not wearing helmets at the time of the accidents.
Chhagan Bhujbal, State Cabinet Minister in Maharashtra, launched a "No Helmet, No Petrol" drive in the city as part of India's 75th Independence Day celebrations. Bhujbal is also the Guardian Minister of Nashik district. He inaugurated the campaign at the Sadbhavana Police Petrol Pump on Gangapur Road in the city. He appealed to two-wheeler drivers to observe the basic safety norms to protect themselves and their families by wearing helmets when driving their vehicles. While highlighting the statistics, Bhujbal directed that all the petrol pumps in the city should install CCTV cameras for surveillance. It can ensure that customers without helmets will not be given the service of refuelling their vehicles. Besides, he authorised the police authorities to penalise such offenders. In response, Deepak Pandey, Nashik Police Commissioner, reiterated that the police should be strict with such offenders and appealed to petrol pump owners to carry forward this safety awareness campaign in the right spirit.
Pandey further states that people should also cooperate with the police and other concerned authorities to ensure that the No Helmet No petrol campaign succeeds. It is in the public interest alone. Moreover, by ensuring the campaign's success, Nashik can set an example for other cities to follow.
On this occasion, Bhujbal distributed 2053 helmets among personnel to set an example before the public. In a separate report, Nitin Gadkari, Union Transport Minister, informed government officials that the authorities across the country had issued more than 7.67 crore challans for traffic violations in the 23 months since the successful implementation of the New Motor Vehicles (Safety Amendment) Act 2019.