Royal Enfield Hunter 350 Specs Revealed: Details Inside
Posted by Sachit Bhat on 06-Aug-2022 12:18 AM
Royal Enfield is out with another offering: The Royal Enfield Hunter 350. We are here today, with the specs of this 350cc bike. Let's take a look.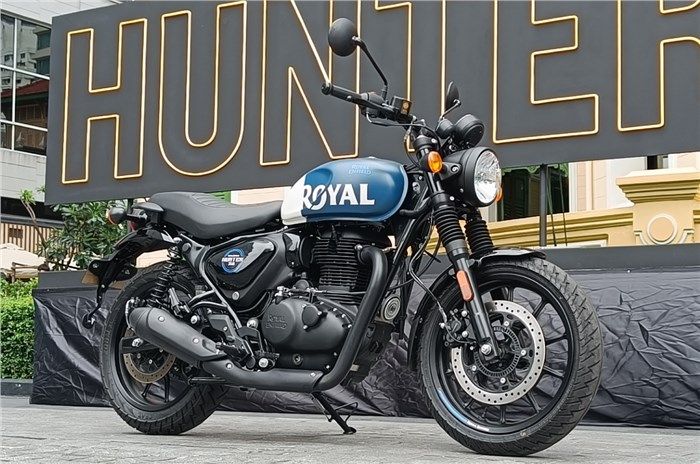 The eagerly anticipated Hunter 350's specs have been released, and there are more differences than meets the eye. The bike weighs 181 kg, which is 10 kg and 14 kg less than the Meteor 350 and the Classic 350, respectively, but has a fuel tank that is equal in size to the aforementioned two, at 13 liters.
New bodywork and bespoke components

Sharper geometry compared to its siblings

Metro variant gets dual-channel ABS as standard

The engine is the only significant part of the motorcycle that has not been thoroughly examined. New wheels, a stubbier exhaust, new headlamps, and taillamps, as well as minimalistic bodywork, have all been used to achieve the aforementioned weight savings. The Hunter 350's handlebar, fenders, suspension parts, airbox, steering yoke, and brand-new exhaust are all specifically designed for it.
The Hunter's peppier personality has been accommodated by tuning the fueling and ignition timing, making it somewhat more responsive. That ought to enhance the redesigned geometry, which is significantly sharper than its more languid brothers. The Hunter 350 will undoubtedly gain some points for handling thanks to its 1370mm wheelbase (1390mm on the Classic 350 and 1400mm on the Meteor 350) and sharper 25° rake angle (compared to 26° on its siblings).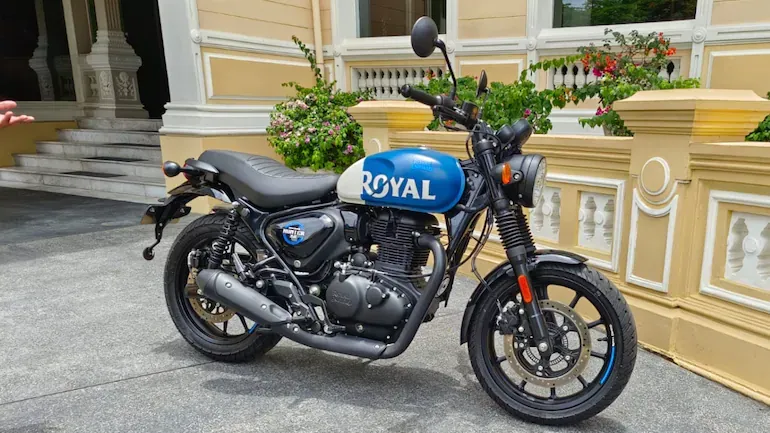 The Hunter 350's tyres are a welcome break from other REs, sporting 17-inch cast alloy rims at both ends that are fitted with tubeless tires in the sizes of 110/70-17 (front) and 140/70-17 (rear) (rear). A 41mm telescopic fork with 130mm of travel at the front and 6-step preload-adjustable twin emulsion shock absorbers with 102mm of travel at the back handle suspension chores. At the front, a twin-pot caliper bites down on a 300mm disc, while at the back, single-piston caliper clamps down on a 240mm disc. Dual-channel ABS is standard on the Hunter 350 Metro model.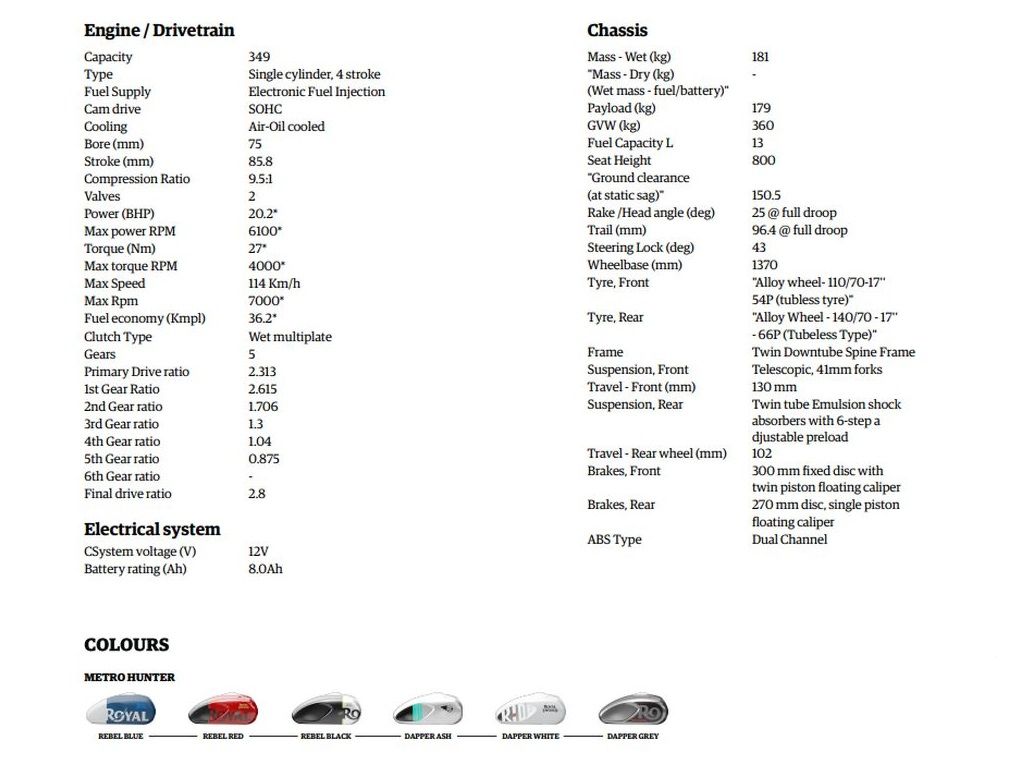 Keep checking back to see firsthand how the Hunter 350 performs in the real world when we ride it soon and write a review about it.