Veteran Actor Dharmendra Shows His First Car, bought in 1960, On Instagram
Posted by Rakhi Jha On 14-Oct-2021 07:46 AM

6567 Views
Veteran Actor Dharmendra Shows His First Car, bought in 1960, On Instagram
Sholey Actor Dharmendra always carries charm with himself, In his many interviews, we have seen the potential and patience he always brings with himself on the stage, not in reel life, but also in real life he has this stability and patience. Recently on his Instagram, Actor Dharmendra showed something that attracted many of his fans. The actor uploaded a video to show us his "beloved baby" or his very first car. The Sholay actor was posing next to the Fiat 1100 that he bought in 1960 and has been with him since. We all know how special our first car is, and it's great to see the actor holding on to his prized possession for so long.
In a video shared by Dharmendra, he says, "Hi friends, my first car. I bought it for ₹ 18,000 only. In those days, ₹ 18,000 was a great thing. I have kept it nicely. Looks good? Pray for it, it should always be with me." In an earlier interview, Dharmendra had once said that he always kept the car, "because of the fear that if I have nothing someday, I can convert it into a taxi!"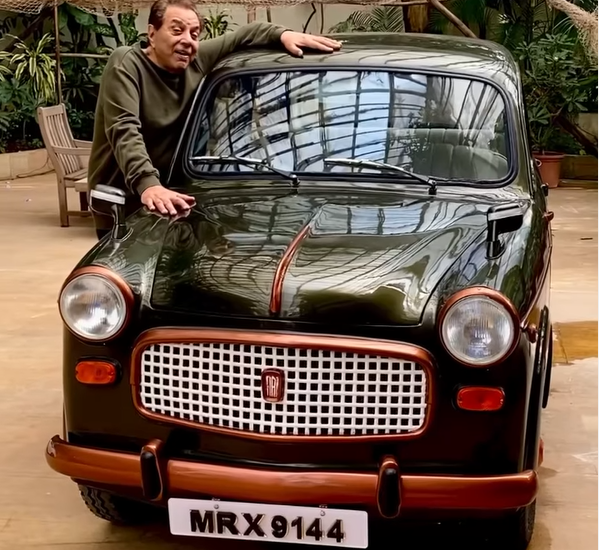 Fortunately, things did pan out for the better for the Deol clan who has a rather enviable collection of cars amongst themselves including this 1100. Dharmendra is also a big fan of Range Rovers and the actor's garage holds a few examples of the same, some of which date back to the mid-1990s and 2000s. The Deol garage also hosts a few luxury saloons from Mercedes-Benz, BMW and even the Porsches.
The Fiat 1100 was one of the first offerings in India from the Italian automaker and was extremely popular in its heydays. The rounded design was always a head-turner continues to be so even today. It was powered by a 1089 cc four-cylinder petrol engine, which developed a puny 36 bhp, sending power to the rear wheels via a 4-speed manual gearbox. Not much by today's standards maybe, but enough for what was essentially the family man's car back in the 1950s.