Electric Two Wheeler Sales in Feb 2022 in India- Hero Electric Tops, OLA Beats Ather
Posted by Arun Dagar On 05-Mar-2022 09:32 AM

3491 Views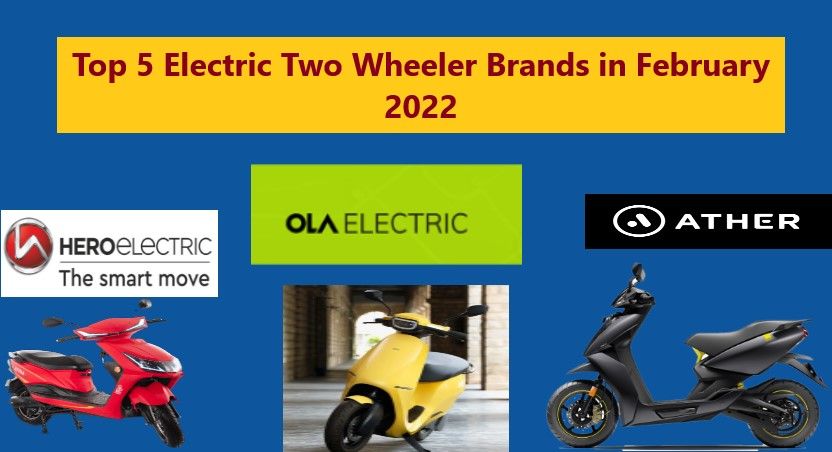 Electric two-wheeler are driving EV sales in India, as the country steadily adopts electric mobility. EV market space in India is dominated by the electric two-wheelers as they command over 60% of electric vehicle sales in India.
The E two-wheeler sales stood at 32,416 units in February 2022. Thus, registering an 18% increase in MOM (Month-on-Month) sales. How-ever, the bigger surprise is the over 440% growth in YOY (Year on Year) sales. In total, 54,557 EVs were sold in India last month.
Here's the top 5 electric two-wheeler Brands in February 2022:
Hero Electric:
Hero Electric remains the largest EV manufacturer in India and is also the highest selling electric scooter brand in India. It reported MOM sales decline by 420 units last month, as it sold 7,356 units compared to the 7,776 units it sold in January 2022.
The YOY sales grew by over 230% from the 2,194 units sold in February 2021. After having a record breaking 2021, the company is on track to double its sales this year. As, the combined sales of the first two months of this year have already crossed 15,000 units, the company commands over 30% market share.
Okinawa Autotech:
Okinawa electric two-wheeler sales also reported a jump in its sales as the YOY sales were up by over 450%. The company sold 5,923 units last month compared to just 1,067 units it sold in February last year.
The MOM sales were up too as Okinawa prepares to launch its latest Okinawa Okhi 90 electric scooter in India. This e scooter will rival the likes of the OLA S1, Bajaj Chetak, TVS iQube and the Ather 450 in the Indian market.
Just like, Hero Electric, Okinawa is also looking to double their sales as they aim for a record breaking 2022 as well.
Ampere:
Ampere electric scooters were also in demand last month as the third largest electric two-wheeler maker in the country sold 4,303 units last month against just 806 units of February 2021.
Thus, it registered a massive jump of over 433% in terms of YOY sales. The company sells electric scooters like the Magnus EX, Magnus Pro, Reo, Reo Elite and Zeal in India.
OLA Electric:
The big news from last month sales remain the entry of OLA in the top 5 electric two-wheeler company list. It also rubbed salt to the wounds of Ather as it registered more sales compared to its chief rival. The OLA S1 price is Rs 1.10 lakh without state and centre subsidies.
Despite struggling with delivery issues of its OLA S1 Pro electric scooter and have managed to sell 3,904 units last month. This was due to increase in its production capacity as well as it stopping further bookings for its electric scooters.
The fact that the newest company in this list has managed to quickly make a mark in this list goes onto prove to people who were skeptics over whether the company will deliver the OLA S1 electric scooters to the eagerly waiting customers.
Ather Energy:
Ather, the Bengaluru based start-up registered a slight drop in its sales figures last month. It sold 2,229 units last month compared to 2,825 units it sold in January 2022.
This was a decrease of 21% in MOM sales, while it still managed to post significant increase in YOY sales of 256%. The company sold just 626 units in February 2021 and needs to work harder if it plans to become a major player in the electric two-wheeler market in India.
Currently, the company sells the Ather 450 and Ather 450X electric scooter and plans to launch a lower priced scooter to rival the OLA, Bajaj and TVS rivals. Ather 450 price is Rs 1.13 lakh and the Ather 450X price is Rs 1.38 lakh.