Best Electric Cycles in India under 50,000
Posted by Utkarsh Gusain On 06-Mar-2022 06:59 AM

3768 Views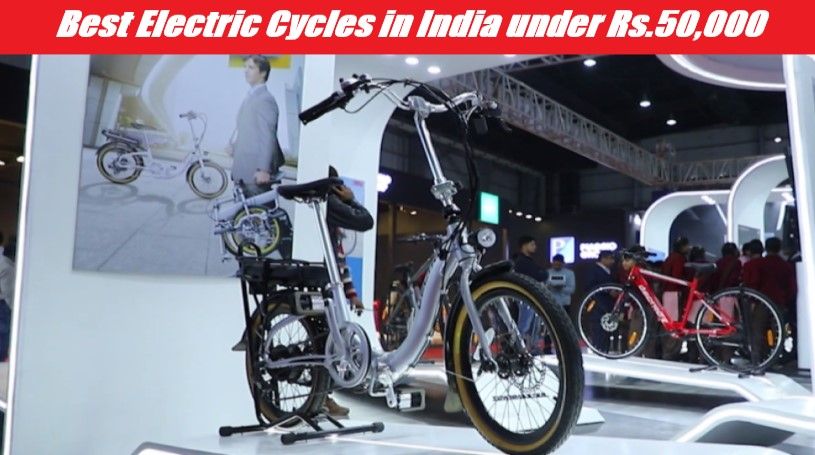 Electric Cycles in India are gaining popularity as other EVs such as electric cars, electric bikes and electric scooters are also sparking interest among Indian customers. Using cycles as a mode of transportation is a healthier option when compared to other modes like cars, bike, scooters, etc. Cycling is a fun activity and a hobbies that one can adopt to enjoy their time on this planet. Some benefits of cycling are losing weight or getting fitter, meeting new people, making friends and releasing stress and toxins from the mind and body. Cycles brands in India are now focusing on electric market since it is growing with a rapid pace.
What are Electric Cycles?
In cycling world there is a huge variety and types of cycles such as MTB, Road, Hybrid/city cycle, folding bikes and electric cycles. Out of all these cycle types electric cycles stand apart with its unique mechanism of working. Electric cycles or e-cycles have an electric motor to generate power and help the cyclists cover longer distance without any fatigue. They come with batteries attached to them which powers the e-cycle, a throttle or peddle assist to help the cyclist ride the cycle at a faster speed rate and lastly a LED headlight which is offered in many cases.
Advantages of Electric Cycles:
When it comes to convenience, electric cycles provide a superior experience compared to a conventional bicycle. Some of the advantages that electric bicycles offer include, riding without any exhaustion, covering longer distances in short period, increase in average speed, different riding modes and environment friendly transportation. You can also use a LED headlight on your electric bicycle since the power will be generated via a battery. Using an electric bike will also separate you from the crowd and will give a youthful appeal while driving. E-cycles are the ride of future and perfect for short distance commutes like offices, schools, gymnasium, running errands and further more.
Here is the list of best Electric cycles in India under 50,000 budget:
1) Hero Lectro C6E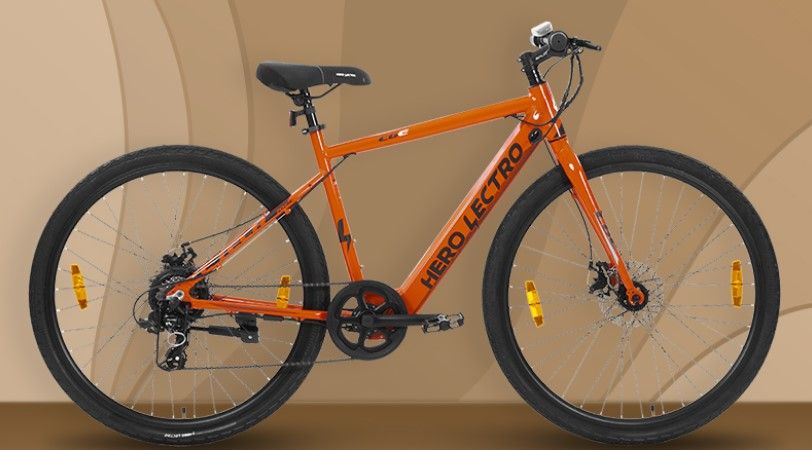 Hero Lectro is a subsidiary brand under Hero cycles which is the biggest cycle manufacturing company in India. Hero has been able to double its revenue since last couple of years, major reason being pandemic which made a large population adopt cycling. Hero releases electric cycles under the name of Lectro. Hero is achieving milestones in the cycling industry and is a pioneer among other cycling brands. Now through Lectro Hero has captured the e-cycle market. Hero Lectro C6E is a premium electric bicycle that is developed considering the requirements in Indian market.
Features:
Hero Lectro C6E comes with a comfortable upright frame geometry perfect for city commuting and a rigid front fork. Lector C6E has double wall alloy wheels combined with reflectors. For gearing the cycle has 7 speed drive train which are shifted by thumb shifters on the handlebar. For safety Anti-skid paddles with reflectors and disc braking on both front and rear wheel are provided. Electric system include a lithium ion battery of 36 V, 5.8Ah and a rear hub motor. Rechargeable battery is charged by a magnetic connector which is an exclusive feature for an electric bicycle at this price range. The battery will fully charge in 4 hours. Hero Lectro C6E has a maximum speed of 25 kmph and a range of approximately 30 km.
Hero Lectro C6E price is Rs.36,999.
2) Triad E5
Transworld E Cycles Private Limited (TWC) or Triad Cycles is a Chennai based electric cycle brand which a large range or e-cycles under their brand. Triad cycles is a fast growing brand in India that produces good quality e-cycles which are comfortable and efficient. Triad electric cycles has managed to get a good online rating by the customers in e-commerce websites, marking itself as a tough competitor in the electric cycle market. Triad E5 is the company's one among other flagship products with a premium built and excelling features.
Features:
Triad E5 comes with features like light aluminium alloy frame, flat aero rigid fork and all over a comfortable riding positioning. Gearing consists of Shimano 7 speed derailleurs with Shimano trigger shifters. The battery of Triad E5 is detachable which makes it convenient to charge. The lithium ion smart battery has power of 36v 7.5Ah. The battery can be charged fully with a standard Indian plug in 3-4 hours. Triad E5 generates a maximum speed of 25 kmph and a range of around 35-40 km on pedal assist.
Triad E5 price is Rs.39,115.
3) Hero Lectro C9 Folding Cycle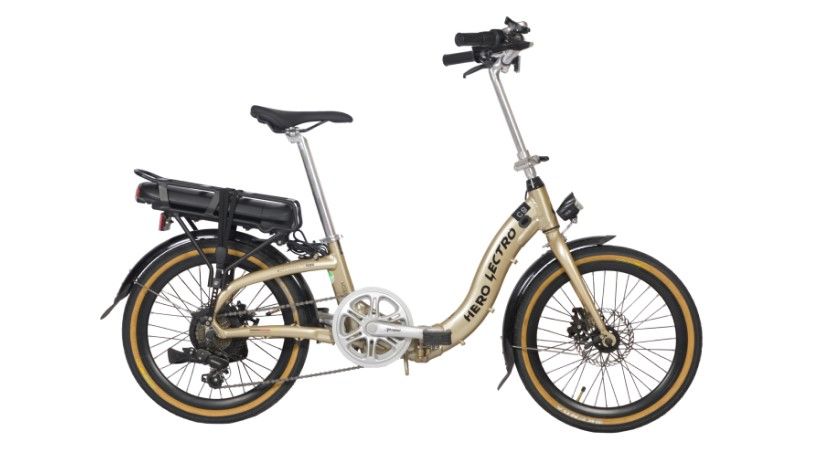 Hero Lectro is back on the list with another cycle, this one has 2 specifications in one which is you get an electric and a folding cycle at price of one. Hero Lectro C9 Folding cycle is specifically developed for city rides and something which is portable or can be taken on trips with ease. Hero Lectro C9 Foldie is a lightweight folding bicycle that can be folded and unfolded in matter of seconds.
Features:
Hero Lectro C9 Foldie has a comfortable alloy frame geometry, rigid front fork and double wall alloy wheels. The C9 folding cycle has 7 speed Shimano rear derailleurs. The battery in carrier mounted and has a power of 36v 8.7ah. Hero Lectro C9 foldie has a top speed of 25 kmph and a range of 40 km via pedal assist. A full charge in Lectro C9 foldie will take 4 hours in total.
Hero Lectro C9 Folding Cycle price is Rs.46,999.
4) Meraki Electric Orange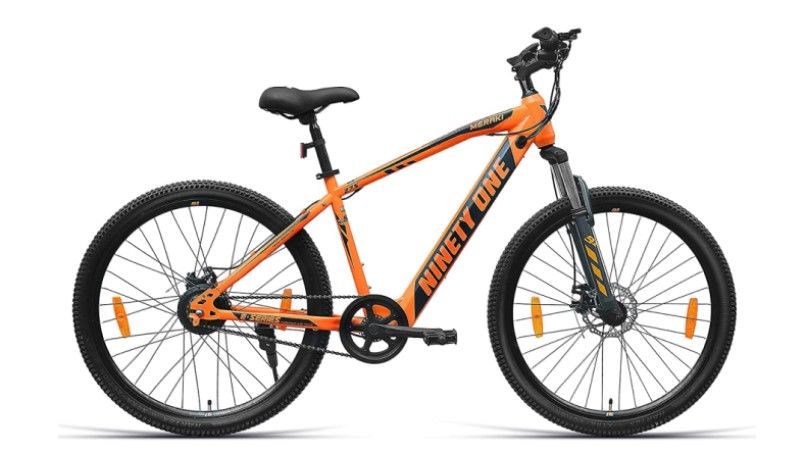 Ninety One cycles is a sub brand that comes under the Austrian motorcycle brand KTM, which has a huge popularity in India and are renowned for their unique approach in the industry. Ninety One is gaining recognition among Indian cyclists. Meraki series is the flagship product of Ninety One cycles and is a well-developed e-cycle according to Indian market. Meraki Electric orange styles an orange and black colour combination which is the signature KTM theme.
Features:
Meraki electric orange is an electric MTB with upright steel frame, comfortable seating position, suspension on the front and disc brakes for safety. The cycle is a single speed and is power by the electric motor. For electrical systems it is powered by a 6.36AH battery with 2000 discharge cycles, 250 watt waterproof motor and controls are mounted on the handlebar. Meraki electric orange has a maximum range of 35 kms. Pedal assist and cruise mode is provided for easy riding. In cruise mode the rider can go ride with a steady speed of 6kmph without any pedalling.
Meraki Electric Orange price is Rs.31,999.
5) Waltx Spark 1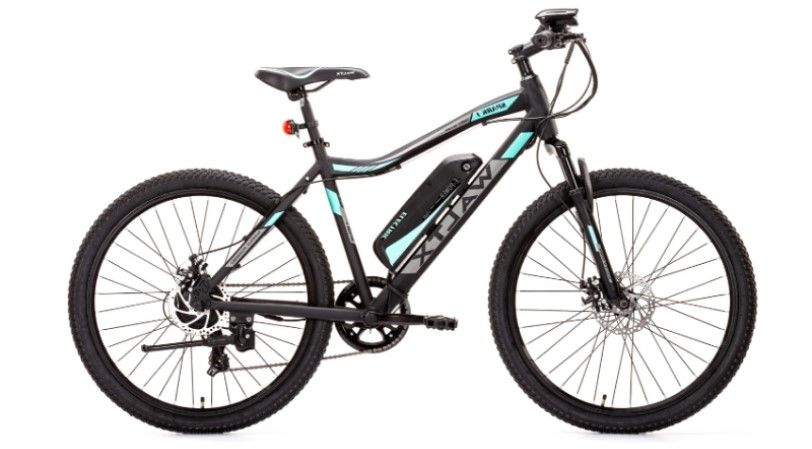 Waltx is an Indian cycle brand which manufactures different types of cycles such as MTBs, Hybrid cycles, E-cycles and Fat bikes. The brand has a reputation for providing good quality bicycles which are budget friendly at the same time. Waltx Spark 1 is an electric bicycle with MTB style which is specially designed for covering long city rides with comfort and ease.
Features:
Waltx Spark 1 features include a lightweight aluminium alloy frame, suspension on the front fork and mechanical disc brakes on the front and back. Gearing is a 7 speed unit on the rear. Spark 1 has a unisex frame which makes it accessible for both genders. For electrical systems it has a detachable smart 36v 7.8Ah Lithium-ion battery combined with a rear hub motor. The e-cycle has two different riding modes, throttle with 25 kmph max. speed and pedal assist. The battery can be fully charged in 3-4 hours and will deliver a range of 35-40 km.
Waltx Spark 1 price is Rs.39,511.