Top 10 OEM-Sales in December 2021
Posted by Arun Dagar On 04-Jan-2022 12:35 AM

459 Views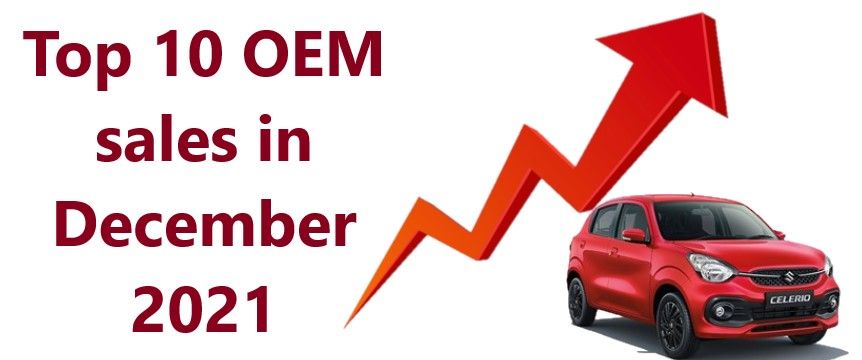 The year 2021 ended on a sour note for the Auto Industry but for a few car makers it brought cheers of joy. Car sales for OEMs in December 2021 stood at 2,54,462 units against 2,76,546 units in December 2020 registering YOY de-growth of 8%, the main reason for this continues to be the ongoing global semi-conductor chip shortage and the supply chain blockade which has forced the OEMs to reduce production and delay deliveries of new cars. How-ever car sales registered positive MOM sales as in November 2021 2,45,217 units were sold thus showing increase of 3.7%.
Here are the top 10 OEMs in December 2021:
• Maruti Suzuki:
Maruti Suzuki, India's largest car maker remained on top by a huge margin despite witnessing a decrease in sales from the corresponding year when 1,40,754 units were sold in December 2020 as compared to 1,23,016 units this year, showing decreasing YOY sales of 12.6%. MOM sales increased by 12.1% 1,40,754 units sold last month against 1,09,726 units in November 2021. Maruti Suzuki cars still commands a market share of 45% and is way ahead of its nearest rival as it looks to increase its market share to upto 50% in 2022 with a host of new car launches planned by the company in the coming months, including the all-new Vitara Brezza, Alto, Baleno and facelifted versions of the Ertiga and XL6.
• Tata Motors:
Tata Motors has had a record breaking 2021 as it posted huge sales growth in the entire year and registered highest sales in the last ten-years. The company also captured the No.-2 spot from Hyundai last month as it was buoyed by a positive response to the recent launch of Punch micro-SUV and posted positive YOY growth of 50% with car sales in December 2021 at 35,299 more than sales in December 2020 at 23,546. MOM sales too increased by 18.5% with the company selling 29,778 units in November 2021 against the 35,299 units sold last month and the company holds 12% of the domestic car market share.
• Hyundai India:
Hyundai had a disappointing end to last year as it lost the coveted No.-2 spot as well as saw reduced sales figures, how-ever it continues to have 15% market share even though it registered decline in car sales last month. Hyundai India just sold 32,312 units last month against sales of 47,400 units in December 2020, registering YOY de-growth of 31.8%. MOM sales were down too, registering sales de-growth of over 12.5% as it had sold 37,001 units in November 2021.
• Mahindra:
Mahindra is witnessing a huge demand for its new cars with the Thar and the all new XUV 700 both commanding waiting periods of more than 6 months with some models of XUV 700 commanding waiting periods of more than 1-year. This showed in the YOY sales of the company with a positive growth of 9.5% over the corresponding month of last year with sales at 17,722 against 16,182. MOM sales registering a 9% de-growth when 19,458 units were sold in November 2021 against December 2021 and continues to hold onto nearly 8% market share.
• Toyota:
Toyota had steady end to last year as it jumped over Kia in the December sales figures and with it readying for the launch of the Belta sedan, which is a re-badged version of the Maruti Ciaz, it looks like this strategy and partnership with Maruti Suzuki is working as it registered a positive growth of 44.6% in YOY car sales last month when it sold 10,832 units as compared to just 7,487 units in December 2020. MOM sales decreased by 16.7% from November 2021 when it sold 13,003 units. Toyota maintained its car market share from of 5.3%.
• Honda:
Honda had a better end to 2021 with positive MOM sales since it is struggling in the Indian car market with just 7.973 units sold in December 2021 against 8,638 units in December 2020 with a YOY de-growth of 7.7%. How-ever the new Amaze continues to be a great seller for the company as it helped Honda to register MOM growth of 46% from November 2021, when they sold 5,457 units and hold onto 2% of the market share.
• Kia:
Kia India had a dismal end to last year with it slipping down two positions due to the slump in sales last month, even if the company is readying itself for the launch of its new MPV the Kia Carens and it looks like it can help Kia India in terms of car sales as it registered a de-growth of 34% in YOY car sales for last month where it sold 7,797 units against 11,818 units sold in December 2020. The MOM sales too witnessed a massive drop of 45% as they sold 14,214 units in November 2021, selling 6,417 units more than last month. The market share of Kia India in the Indian car market remained at 5.8%.
• Renault:
Renault saw a decline in its car sales numbers from 9,800 to just 6,130 units, on YOY basis with a decline of 37% from the same period last year despite a good response last month as the MOM sales were up by over 21% as just 5,052 units were sold in November 2021.
• Volkswagen:
Volkswagen witnessed a huge jump of 54% in its YOY car sales as it sold 3,700 units in December 2021 against 2,401 units in December 2020. This jump was due to the good response that its new SUV, the VW Taigun has generated as the German giant continues its resurgence in India. The MOM sales were also up by 700 units compared to November 2021.
• Skoda:
Skoda has started its India 2.0 plan with a bang with it witnessing great sales growth near the end of last year due to the overwhelming response for its first India-specific product, the Kushaq, compact SUV. Skoda rose up a position last month witnessing massive YOY growth of over 148%, as it sold 3,234 units last month against just 1,303 units it sold in December 2020. The same story continued in terms of MOM sales as the company witnessed positive sales growth of over 47% compared to November 2021, when it sold 2,196 units.
Special Mention:
• Nissan:
Even-though Nissan dropped out of the top 10 OEMs in December 2021 sales, the Japanese car maker had a great last month as its sub-compact SUV, the Magnite continues to garner good response with over 50,000 bookings since its launch. This response has helped Nissan post humongous YOY growth of 160% compared to last year's car sales in the same month when they sold just 1,159 units while 3,010 units left dealerships in December 2021, while the MOM sales too witnessed growth by 13.5% from 2,651 units sold in November 2021 to 3,010 units sold last month.