Car Sales in February 2022-Maruti, Hyundai declines, Tata & Mahindra Strong
Posted by Arun Dagar On 03-Mar-2022 10:01 AM

5013 Views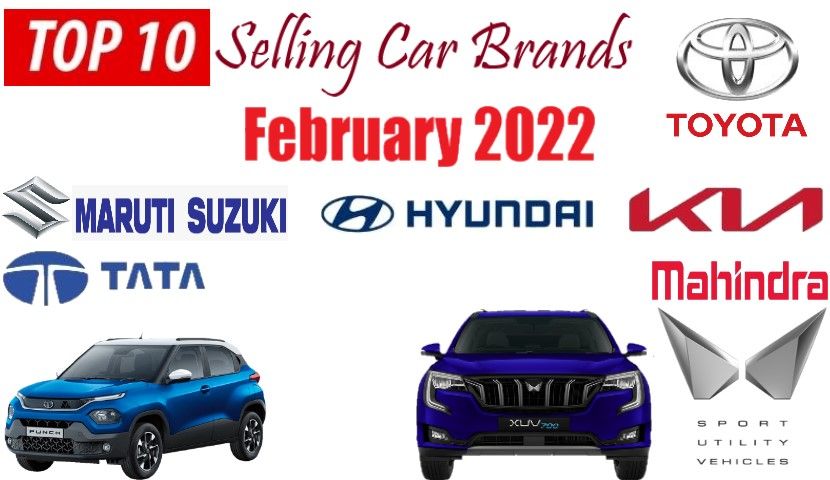 Car sales registered a YOY de-growth of 1.8%, as the sales figures for the top Indian car brands in February 2022 stood at 3,02,857 units against the 3,08,611 units in February 2021. How-ever car sales saw positive MOM sales with a growth of 2.7% as in January 2022 2,94,872 units were sold.
Here are the top 10 car brands in February 2022:
Maruti Suzuki
Maruti Suzuki, India's largest car maker remained top by a huge margin despite a decrease in sales from the corresponding year when 1,44,761 units were sold in February 2021 as compared to 1,33,924 units this year, showing decreasing YOY sales of 7.4%. MOM sales increased by 3.8% 1,33,924 Maruti Suzuki cars were sold last month against 1,28,924 units in January 2022.
Maruti Suzuki cars commanded a market share of 44% and the company is looking to consolidate its top position and has just launched the all-new Baleno 2022 price Rs 6.95 lakh and the Wagon R facelift. The company also has a slew of other car launches this year, including the all-new Maruti Suzuki Alto, new Maruti Suzuki Brezza and facelifted versions of Maruti Ertiga and Maruti XL6.
Hyundai India
Hyundai had another disappointing month in terms of sales, after the setback of 2021. With Tata Motors breathing down its neck, for the number 2 spot in the top car manufacturers in India, the company has a lead albeit by a slender margin and continues to hold 14.5% market share.
Hyundai India just sold 44,050 units last month against sales of 51,600 units in February 2021, registering YOY de-growth of 14.6%. MOM sales witnessed marginal sales growth of over 28 Hyundai cars, as it had sold 44,022 units in January 2022.
Tata Motors
Tata Motors continues to defy the global and domestic car market sentiments, as it posted strong sales numbers last month. The company, fresh of posting its highest sales figure in January has again posted positive YOY sales of 47% with car sales in February 2022 more than the sales of 27,225 Tata cars in February 2021. MOM sales decreased slightly by 1.9% with the company selling 39,981 units last month against the 40,777 units sold in January 2022 and the company continues to hold 13.2% of the domestic car market share.
Also Read: Top 10 selling cars in February 2022
Mahindra
Mahindra is riding high on the response to its recent launches and witnessed its highest ever SUV sales last month. This was on the back of strong demand for its Thar and XUV700 SUVs, despite the chip shortage reducing its production output. This, helped the YOY sales of the company to grow by 80% over the corresponding month of last year with sales at 27,663 against 15,391. The MOM sales too, registered a 38.5% growth, when 19,964 units were sold in January 2022 and it increased its market share to 9%.
Kia
Kia India posted strong YOY sales even though the MOM sales declined slightly. Kia Carens MPV, the latest car launch from the company has received a strong response from buyers, with over 20,000 bookings since the launch. Thus, the company registered growth of 8.5% in YOY car sales for last month where it sold 18,121 units against 16,702 units sold in February 2021. The MOM sales witnessed a de-growth of 4.9% as they had sold 19,057 units in January 2022, thus, selling 935 units more last month. The market share of Kia India in the Indian car market decreased to 6%.
Toyota
Toyota again posted sales figures in the red in terms of YOY sales, though the sales, last month were more than the January sales. The company registered a sales de-growth of 37.8% in YOY terms. The Toyota car sales last month stood at 8,745 units as compared to 14,075 units in February 2021. MOM sales however, increased by 19.3% from January 2022 when it sold 7,328 units.
Honda
Honda, the Japanese giant once loved due to its brilliant petrol engines and great cars, continues to slog it out in India. Despite witnessing a positive end to last year, the company had sales of 7,187 units in January 2022 against 9,324 units in February 2022 with a YOY de-growth of 23%. The Amaze and City sedans, remain the two pillars for the car maker in India but couldn't stop Honda cars from registering negative MOM sales of 31% from January 2022, when they sold just 10,427 units.
Renault
Renault saw its sales decline from 11,043 to just 6,568 units, on YOY basis with a de-growth of 40.5% from the same period last year despite a good response last month on the back of the Kiger SUV as the MOM sales too, decreased by 20% as just 8,209 units were sold in January 2022.
Nissan
Nissan, the Japanese car maker continued its strong performance in India. It had great last month in terms of sales, as its sub-compact SUV, the Magnite, remains the lone horse carrying the brand in India, with over 88,000 bookings since its launch. This response has helped Nissan post YOY growth of 57% compared to last year's car sales in the same month when they sold just 6,662 units while 4,244 units were sold by dealerships in February 2021, while the MOM sales too witnessed growth by 65%, as sales were up from 4,021 units, sold in January 2022.
MG
MG motors continued its strong performance as the company sold 4,528 units in February 2022 against the 4,329 units sold in February 2021, thus registering positive YOY sales growth of 4.6% while MOM sales too grew by 5%, as it sold 222 units more than the 4,306 units it sold in January 2022.
Also Read: Jeep Reveals First Electric Car, Launch in 2023
Special Mention:
Volkswagen
Volkswagen witnessed a massive jump of 84% in its YOY car sales as it sold 4,028 units in February 2022. This was on the back of the strong response to the Volkswagen Taigun starting price Rs 10.50 lakh. The SUV has received over 20,000 bookings since its launch in September last month. The MOM sales also witnessed growth of 14% as the company sold 3,523 units in January 2022. Volkswagen will launch the Virtus sedan on March 8, which will definitely help in bringing more sales for the company in India.
Skoda
Skoda Auto's, India 2.0 plan is paying great dividends for the company in India. After the massive success of the Skoda Kushaq SUV and selling all the Skoda Kodiaq SUVs for India in less than 24 hours. The company has just launched the all-new Skoda Slavia price Rs 10.69 lakh and aims for sales of 3,000 units per month. Skoda witnessed massive YOY growth of 439%, as it sold 4,503 units last month against just 835 units it sold in February 2021. This is nearly a five-fold increase in the Skoda car sales.
The company is riding high due to the response to its new models as the same story continue in terms of MOM sales, as the company witnessed sales growth of 50% as it sold 1,494 units more, when compared to January 2022, when it sold 3,009 units.